New solutions answer growing need for actionable information within the automotive production line
Hexagon Metrology announced today the launch of  360° Smart Inline Measurement Solutions (360° SIMS), a new family of measurement solutions that can be fully integrated into demanding automotive production lines to serve manufacturers during launch, ramp-up and ongoing production. They enable full surface inspection and critical features measurement of up to 100 per cent of the produced car bodies, parts and sub-assemblies within production cycle time. By leveraging its reliable metrology methods, innovative software and sensor technologies, Hexagon Metrology has created an advanced means of process control for a  comprehensive understanding of quality.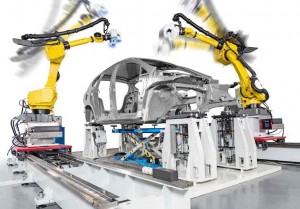 360° SIMS installations are adapted to their respective environment and target industry applications. Installations typically include shop floor-proven white light area measurement sensors from Hexagon Metrology and powerful point cloud-based software tools. Using a simple touchscreen interface, operators with basic training can supervise the measurement process, easily visualise results and identify root cause for quality concerns.
360° SIMS are compatible with commonly used industrial robots, PLCs, automation devices and safety equipment. Cell configurations will include in-line, near-the-line and offline options to support a variety of customer applications throughout stamping, body shop and final assembly sub-plants. Other options include a patent-pending alignment and measuring device for large objects, innovative software tools for large data set visualisation and analysis and fixed optical sensors for complementing measurement tasks. The 360° SIMS cells can be positioned anywhere along production lines and production bays to support a customer's dimensional control strategies.
"With our 360° Smart Inline Measurement Solutions, we offer our automotive customers a next-generation system designed to answer the growing need for insightful and actionable information to accelerate production launches and monitor quality," said Giacomo Barilà, head of Hexagon Metrology's automated solutions. "It is a huge step towards the digital factory of tomorrow, and integrates Hexagon Metrology's most powerful offering. We've created a fully automated high-speed system that provides new insights into quality for the automotive community of OEMS and tier-one suppliers.
"The new 360° SIMS offering will be added to our leading sheet metal, horizontal and Gantry CMMs offering, which has been a cornerstone of automotive metrology for the past 30 years. With this new offering, we'll continue to serve our global customers directly on their shop floor."
About Hexagon Metrology
Hexagon Metrology offers a comprehensive range of products and services for all industrial metrology applications in sectors such as automotive, aerospace, energy and medical. We support our customers with actionable measurement information along the complete life cycle of a product – from development and design to production, assembly and final inspection.
With more than 20 production facilities and 70 Precision Centers for service and demonstrations, and a network of over 100 distribution partners on five continents, we empower our customers to fully control their manufacturing processes, enhancing the quality of products and increasing efficiency in manufacturing plants around the world.
Hexagon Metrology is part of Hexagon (Nordic exchange: HEXA B). Hexagon is a leading global provider of design, measurement and visualisation technologies that enable customers to design, measure and position objects, and process and present data.