Automotive industry profits from Victrex´s high-level expertise, customization and support
April 9, 2014 – Based on its recent research on the automotive polyetheretherketones (PEEK) compounds market, Frost & Sullivan is presenting its 2013 European Customer Value Leadership Award to Victrex plc. The UK headquartered global high performance polymer solutions provider has an extensive range of PEEK compounds designed to deliver improved performance in aggressive environments in the automotive industry.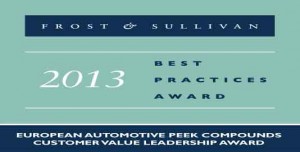 In particular, the premium VICTREX® WG™ family of products has successfully addressed a number of customer requirements such as higher efficiency and improved durability by offering a lower coefficient of friction and reduced wear, all of which remain critical in under-hood applications. According to Frost & Sullivan, Victrex has been striving to enhance customer value through its relentless technical support, quality assurance, and product customisation. With a strong resin manufacturing capability to support its tailor-made offerings, the company leads the way within the European automotive PEEK compounds applications.
"Owing to the dynamic regulatory trends aimed at reducing emissions and improving fuel efficiency, automotive manufacturers are moving towards smaller engines with improved power output and higher efficiency transmissions," said Frost & Sullivan Research Analyst, Ms Soundarya Shankar. "VICTREX® PEEK polymer thermoplastics are ideal in this environment, as they have been designed to withstand wide temperature ranges and sustain prolonged operating conditions. They also perform efficiently in aggressive environments resulting in reduced maintenance."
Metal replacement: Victrex helps industry to put challenging applications into practise
In addition to offering new products, Victrex has been striving to deliver improved value to its customers. In automotive applications the lightweight and reliable high performance thermoplastics help to reduce costs and emissions, while increasing efficiency. The over-mouldability of VICTREX® PEEK polymers reduces the conventional assembling processes speeding up production and reducing system costs. Furthermore, Victrex's fully integrated resin manufacturing capabilities not only roduct customisation but also strengthens technical know-how to help customers during development and deployment.
To facilitate a smooth transition from metal to its high-performance polymer compounds Victrex is working closely together with OEMs and component manufacturers and is partnering with plastic moulders and extruders who have sound technical capabilities. Ms Shankar adds: "By partnering with customers and by offering consulting services in the development phase, subsequently solving production challenges as well as extending after-sales support, Victrex truly adds value to its clients' business."
Understanding the importance of timely delivery and the need to reduce costs
Another aspect in which Victrex has significantly differentiated itself from its competitors is its supply security. The company has a strong record of prompt supply, even during tough economic times, when there were significant supply shortages in the market. "This has been possible through a robust model for lead capacity management. Understanding the importance of timely delivery of products in the automotive industry, Victrex maintains a maximum lead time of five to seven days for standard products across the globe," noted Ms Shankar.
Victrex's PEEK polymers have been designed to address the most stringent material requirements in the automotive industry. For instance, in a testing procedure, Victrex's PEEK polymers retained their original stiffness, tensile, and impact strength after 5,000 hours of use while competing high-performance materials, such as heat-stabilised polyamides and PA 46 grades showed degraded material performance after similar procedures. Furthermore, PEEK polymers can be used on standard injection moulding machines, thus helping customers reduce processing costs and part-to-part variability.
Each year, Frost & Sullivan presents this award to a company that has demonstrated excellence in implementing strategies that proactively create value for its customers with a focus on improving the return on the investment that customers make in its services or products. The award recognises the company's inordinate focus on enhancing the value that its customers receive, beyond simply good customer service, leading to improved customer retention and ultimately customer base expansion. The official award ceremony will take place in May 2014.
web:  www.victrex.com