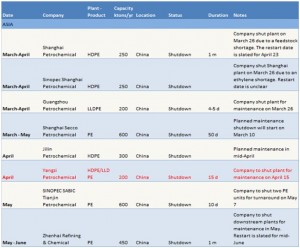 China's PP and PE markets have been dealing with oversupply issues since players returned from the Chinese New Year holiday in early February as per ChemOrbis. This factor pulled PP and PE prices consistently down in the region until three weeks ago. Local prices have been moving higher since then with players assuming that a bottoming-out is near given the easing concerns about oversupply.
"Total stocks of PP and PE saw further declines over the past week and now stand at around 600,000-700,000 tons," a distributor based in Linyi commented. These stocks in the bonded warehouses were standing above 1,000,000 tons not long ago. Even though demand is not considered great in China, huge stocks built during February have been slowly coming down, players concur.
A distributor stated, "We received PE offers from a domestic producer with CNY100-200/ton ($16-32/ton) increases. Buyers have started to return to the market to make fresh purchases as existing supply levels are starting to wind down."
In addition, China is preparing for a turnaround season in April and May both in the PP and PE markets. These scheduled shutdowns are also expected to help stock levels come back to normal levels.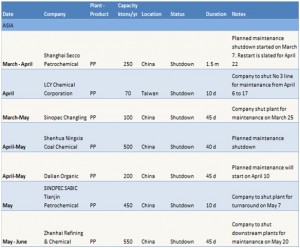 Some plants have already been shut since March and they are expected to resume operations by the end of April. However, there are more plants slated to be shut for the April and May period as can be seen from the ChemOrbis Production News tables.
According to ChemOrbis, based on the expectations about seeing normalized stock levels inside China, players think that local prices may continue to edge higher. However, nobody is convinced that major changes are likely as demand is still not deemed as being very strong both for PP and PE.