Maintenance-free and robust: The new SZ-NIV-HD series of heavy-duty spring levelers from FIPA GmbH (http://www.fipa.com) offers innovative vacuum components for dynamic handling and short cycle times in rough production environments. "High-quality bearing material and design improvements ensure an exceptionally long service life," says Rainer Mehrer, CEO of FIPA.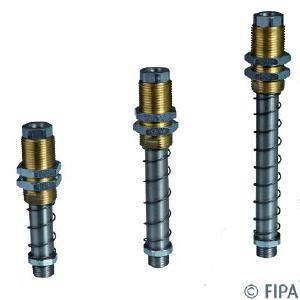 Spring levelers, also called spring loaded suction fingers, ensure that the attached vacuum cups handle sensitive products gently and also protect the gripper from collision damage. The damping effect is accomplished by a spiral spring attached to the push rod, which compensates for height differences when handling the product. Excellent running characteristics
The new heavy-duty spring levelers are renowned for their long service life – even in dusty production environments. The reason for this is the high-quality IGUS plain bearing which offers high abrasion resistance and excellent sliding properties with minimum play. The narrow gap allows only a small amount of dust to enter the plain bearing. Even if dust particles are present, the lubricant embedded in the bushing material ensures smooth running and thus maintenance-free operation throughout the entire service life. Other attributes of the heavy-duty spring levelers are the stainless steel shaft and the optional rotation protection, which has been significantly improved with regard to accuracy and durability.
The new heavy-duty spring levelers at a glance:
> Compensation of height differences: Choice of up to three heights per connection thread
> Excellent positioning accuracy: Minimum play thanks to high-quality IGUS plain bearings
> Long service life: Abrasion-resistant self-lubricating bushing material
> Less readjustments: Automatic height adjustment via spring levelers
> Gentle positioning: Protects sensitive materials thanks to spring action
> Optional rotation protection: Improved with regard to accuracy and durability
FIPA GmbH
Jennifer Gerdhenrichs
Freisinger Straße 30
85737 Ismaning, Germany
Tel.: 0049 (0) 89/96 24 89-0
Fax: 0049 (0) 89/96 24 89-11
mailto: [email protected]
http://www.fipa.com