The companies will cooperate in the fields of dimensional process control and automated in-line metrology under the Hexagon Metrology 360° SIMS (Smart In-line Measurement Solutions) brand.
Hexagon Metrology and inos, a member of the Grenzebach group, announced today that they will cooperate in forming and commercializing solutions for dimensional process control and automated 3D metrology for the global automotive industry.This follows the product launch of the Hexagon Metrology 360° SIMS (Smart Inline Measurement Solutions) in March, 2014. The 360° SIMS is a new family of measurement solutions with the objective of creating an advanced means of process control for a 360° understanding of quality.
The cooperation combines inos technology for fixed and robotic sensors and experience in deploying hundreds of automation cells in automotive OEMs with Hexagon Metrology's leading non-contact 3D measurement solutions. Hexagon Metrology will integrate these technology modules into its Smart Inline Measurement portfolio extending its industry solutions and to provide customer with added flexibility as well as new functionality.
"Hexagon Metrology is expanding its 360° SIMS offering and capabilities through this collaboration by adding flexibility and know how", says Giacomo Barilà, head of the Automated Solutions and Sheet Metal product lines. "We are committed to serving the world's top automotive OEMs and Tier1 suppliers with fast, efficient and fully automated 3D Metrology and process control solutions. As we expand our offering from horizontal arm coordinate measuring machines (CMMs) to new flexible metrology technologies, we are proud to be selected by some of the world's key manufacturers. We aim to support their new vehicle programs and ongoing quality production," points out Barilà.
"We believe this cooperation will enhance the fusion of offline metrology and optical inline metrology," says Holger Hofmann CEO of inos.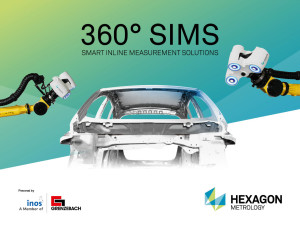 "This unique alliance is a perfect blend of Hexagon Metrology's exceptional capabilities in 3D metrology and inos's expertise in fixed and robotic sensors for industrial automation", said Aravind Govindan, Senior Research Analyst at Frost & Sullivan. "Together, both companies can provide customers with a 100% automated metrology solutions that bring fast and efficient dimensional process control to the automotive industry".
As part of this newly formed cooperation, the companies co-exhibited their joint solutions at the Automatica show 3-6 June, 2014 in Munich, Germany. For more information about the Hexagon Metrology 360° Smart Inline Measurement Solutions, please visit:  http://360sims.hexagonmetrology.com
About Hexagon Metrology
Hexagon Metrology offers a comprehensive range of products and services for all industrial metrology applications in sectors such as automotive, aerospace, energy and medical. We support our customers with actionable measurement information along the complete life cycle of a product – from development and design to production, assembly and final inspection.
With more than 20 production facilities and 70 Precision Centers for service and demonstrations, and a network of over 100 distribution partners on five continents, we empower our customers to fully control their manufacturing processes, enhancing the quality of products and increasing efficiency in manufacturing plants around the world. For more information, visit www.hexagonmetrology.com.
Hexagon Metrology is part of Hexagon (Nordic exchange: HEXA B). Hexagon is a leading global provider of design, measurement and visualisation technologies that enable customers to design, measure and position objects, and process and present data.