Gentle on recycling material, despite high performance
Hellweg Maschinenbau GmbH & Co. KG has extended its successful 600 series granulator at the upper end. The new M 1500/600 version is able to offer enormous torque due to the high stability of the entire machine housing and the heavy duty rotor, which is produced entirely from only one single block of metal and weighs 3,000 kilograms.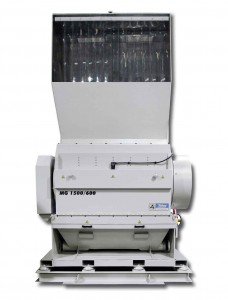 The proven double slanted scissor type of cutting ensures that the large granulator is in a position to shred thick-walled mouldings, sheets, pipes, profiles, crates and canisters. Also when used in continuous operation, maximum heating up of material during the grinding process amounts to no more than 33 °C, and even with glass fibre reinforced plastics to no more than 38 °C. This means no possibility of thermal degradation of the material.
On account of the sophisticated technology, the 600 series granulators offer the possibility of full scalability. Despite difficult material tasks, the high-grade regrind produced can be easily processed further. The new granulator can be individually adapted according to predetermined conditions. Depending on the material to be granulated and the size of the screen block used, throughput reaches around 800 to 2,500 kg/h. Drives with nominal installed power ratings between 75 and 110 kW are used to ensure this performance. Despite the high performance, the granulators work not only with particularly gentle treatment of the material, but also with high energy-efficiency. Peak loads are mechanically compensated very effectively – due to the high rotor weight and arrangement of the blades according to a high-shear cutting principle.
The rotor with 600 mm diameter works at a speed of around 400 min-1, with working width of 1,500 mm. A choice of rotors is offered, with three to seven continuous rotor cutting strips. The usual laborious process of setting rotor blades has been eliminated by the proven technology from Hellweg. With film applications particularly in mind, the number of stator blades can be increased to four.
With its highest level of robustness and therefore long life with the very little maintenance effort needed, the new large M 1500/600 granulator slips neatly in among the other Hellweg granulators. Depending on the version, overall weight reaches up to 11,000 kg. The machine is optionally available with special rotor versions for lumps and film applications, different wear protection packages for glass fibre reinforced material applications, as well as appropriate noise protection cabins.
The company's Managing Director, Mark Hellweg, says of the new machine "Aside from the high performance, we present with the M 1500/600 a granulator that also has other strengths, such as in flexibility on account of the machine's modular design. For example, straight or slanted housing versions are available, as well as different rotor and stator designs, in order to address the different tasks required in the market".