Players in Vietnam report that locally-held PP and PE prices in the country have fallen to the lowest levels seen since 2013, according to data from ChemOrbis Price Index. Local prices are tracking the softening trend in global polymer markets as well as the declines in upstream costs.
In the PP market, locally-held raffia cargoes on an FD Vietnam basis have plunged $168/ton since hitting their 2014 high in mid-August. Local raffia prices currently stand at the lowest level seen since July of 2013.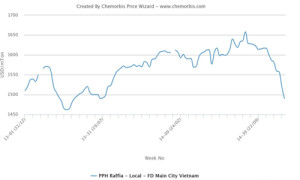 "We are trying to maintain our prices from the end of last week, but we have not been able to conclude deals. We believe that prices still have some room to move down and are therefore unwilling to purchase any fresh cargoes for this week," a distributor commented.
In the HDPE film market, prices for locally-held import cargoes have fallen $169/ton from 2014 high in early August while prices currently stand at the lowest levels seen since the beginning of September 2013. "Local HDPE supplies are sufficient, so we are in no mood to make fresh purchases in spite of the fact that our Saudi Arabian supplier lowered their prices by $40/ton this week. Local demand is sluggish as most converters expect to see further decreases in the weeks ahead," a distributor commented.
LLDPE prices are following a similar trend, although the gap between the 2014 high in mid-August and the prevailing price levels is relatively smaller than HDPE or raffia at $124/ton. LLDPE prices last saw similar levels in October 2013.