Demand for industrial rubber products in the US is forecast to expand 3.4% per annum to US$24.4 billion in 2019, according to Freedonia's latest report.
Gains will be fueled by increased production of machinery and healthy growth in nonresidential construction spending. A modest bump in motor vehicle production will also provide industrial rubber producers with new sales opportunities, though this market will slow considerably from the robust output increases of the 2009-2014 period.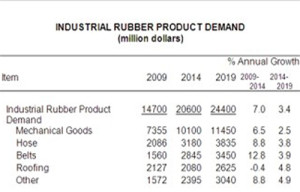 Competition from suppliers in low-cost countries will continue to restrict price increases for most industrial rubber products, limiting value gains to some degree.  These goods will continue to face competition from less expensive plastic products in a number of applications.
The construction market for industrial rubber products, according to Freedonia, is expected to post the strongest gains through 2019.
"Growth will be driven by a robust recovery in nonresidential building activity and an acceleration in residential construction growth," said analyst Brendan Eyre.
Machinery will remain the largest market for industrial rubber products, recording the largest sales advances in dollar terms, supported by ongoing production increases for both industrial machinery and off-road equipment.
Rubber roofing and other construction related products (such as rubber flooring, wall coverings, and geomembranes) are forecast to register the healthiest growth of any major product category through 2019, bolstered by strong gains in construction activity. Suppliers of these products have boosted their manufacturing capacity in response to solid market conditions.
Mechanical goods will continue to account for the largest share of total demand in 2019, although sales gains in this product segment will not be as strong as those forecast for others.
Nearly half of all mechanical rubber goods are utilized in motor vehicle applications, where modest output gains will restrain growth to some degree. Sales of both hose and belts will outpace those of mechanical goods, supported by the wide variety of uses for these products. Suppliers of hose and belts will benefit from increased output of the durable goods, particularly machinery, in which they are used.
Website:      www.adsalecprj.com