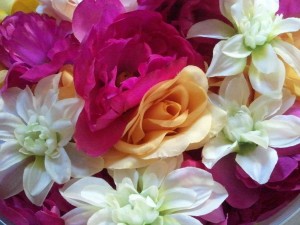 With Mother's Day taking place Sunday, May 13, I'm going to safely assume you already have your mother taken care of – whether it's taking her out for brunch, buying candy, or perhaps sending her flowers.
After all, Mother's Day is big business for the cut-flower industry. About two-thirds of consumers purchase them for Mother's Day, and U.S. spending on cut flowers for this holiday alone will be $2.2 billion, according to reports.
A recent Freakonomics podcast stated nearly 80% of all flowers sold in the U.S. come from South America. The leading producers are Colombia, Ecuador, and Costa Rica. The podcast said the flowers must be refrigerated immediately after they're cut; most are flown to the Miami International Airport, which handles about 187,000 tons of flowers a year, and then trucked to their destination.
The podcast pointed out that in our era of concern about carbon footprint, there doesn't seem to be much outcry on the amount of energy it takes to send these flowers.
An alternative to fresh-cut flowers? Why none other than plastic.
Dartmouth geographer Susanne Freidberg told Freakanomics that plastic might be a better choice:
"They're so lightweight, they wouldn't need to be flown anywhere. They wouldn't decompose and produce greenhouse gases in any landfill. There's probably no slave labor because the production of the plastic flowers is probably all mechanized. And there's the endless lifespan – so there are possibilities for regifting them," she said.
It's definitely an interesting idea because flowers are aligned with nature, and plastics are obviously not. But plastic flowers are lightweight and moms could potentially enjoy an arrangement year-round as opposed to flowers that die shortly after arrival. And some plastic flowers really do look so realistic that it's hard to tell the difference, that is, until you touch or try to smell the flowers.
I guess it all depends on your preference; do you want to send your mom live flowers that will eventually die? Or could you send her one that is not only beautiful to look but doesn't need to be watered.
Although it should be noted that Freidberg told the New Hampshire Sunday News that the podcast left out she said: "I would never want to get plastic flowers."
So, maybe she's advocating the use of plastic flowers, but she doesn't want them herself? I have to say, as appealing as plastic flowers are, I know my mom would personally prefer the real thing, lifespan or not.
Plastic flowers have been in the news a lot recently. In fact, actress Emma Stone recently showed up to the star-studded Met Gala with a red dress full of plastic flowers.
"It was rainproof," she joked to People magazine. "Those plastic flowers! It was fantastic."
What do you think about all this talk regarding plastic flowers? Would you give your mom plastic flowers? What about wearing plastic flowers on clothing?
Source : plasticstoday.com