The privately owned Rebhan Group was founded in Tettau-Sattelgrund, Oberfranken in 1955 by Horst Rebhan, focusing on the pressing of plastic caps using a semi-automatic machine. In 1961, production moved to nearby Stockheim, where the company's headquarters are still located to this day. It currently employs 245 people on-site.
In 1995, the Rebhan Group set up its sister company Rebhan-Opakowania nearby Poznan , Poland, where 45 people are now employed.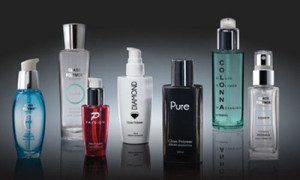 "We also have sales offices in Switzerland and France in order to be able to be as close to our customers as possible" Mr Landgraf adds. "We are present in over 50 countries worldwide with Rebhan agents, mostly within Europe, but also in North and South America, the Middle East and Africa. We even supply the Australian market via a customer in the UK."
The Rebhan Group achieved annual revenues of €23 million last year, with 40 per cent of sales made within Germany, and 60 per cent abroad.
The customer comes first
"Our focus is on being customer centric: our sheer number of clients, ranging from small businesses to large key account customers, is what sets us apart from our competitors. We consider our customers to be our partners, and our smaller customers are just as important to us as our bigger ones. Every customer is individual and should receive the solution they require," Mr Landgraf points out.
Around 70 per cent of the Rebhan Group's turnover is made up from cosmetics packaging, and the remaining turnover is distributed between pharmaceuticals, chemical products , and the food sector.
The Rebhan Group offers its customers a 'one-stop shop' service for achieving the best product every time, providing complete plastic packaging solutions. All key production technologies such as extrusion blow moulding, coextrusion blow moulding, injection stretch blow moulding and injection moulding are offered. Decoration can involve screen printing, hot foil stamping, lacquering and metallisation. The company is able to ensure the highest quality, smooth logistics and an exceptional pre and after sales service.
Success with glass polymers
One of the Rebhan Group's most exciting offerings is glass polymer flacons. This type of plastic offers brilliance and transparency with the look and feel of glass combined with a high degree of design freedom. On top of that, it offers a high degree of wall and base strength. It is versatile in design, safe to use and also has impressive environmental credentials. Its very rigid to mechanical impacts and feels well in the hands and to the eyes of demanding consumers.
"We are constantly developing new products with a focus on our popular COLONNA flacon line. As the most recent highlight we added an over-cap made from the same glass polymer material as the flacon, to enhance value and functionality of the product. The cap fits tightly on the flacon while protecting the dispenser head, for example when the flacon is carried in the handbag, against unintended release of content. In summary the cap gives the flacon an even more luxury look and feel and adds value to the practical handling. We are the first company to feature this type of over-cap on the complete flacon family" Mr Landgraf adds.
The Rebhan Group was also the first company to launch glass polymer flacons on the market nine years ago, and is always keen to push the boundaries when it comes to innovation.
"One further recent innovation is the use of Eastman Tritan™ Copolyester, which is now part of the glass polymer range. The modified copolyester base material from Eastman Chemical allows the same absolutely transparent appearance while offering remarkable improved resistance to demanding substances," Mr Landgraf says.
"Tritan™ flacons were launched by the Rebhan Group in 2013 with the standard FAE15 neck preferred in the Eaux De Toilette (EDT) market especially to fix the pump tight on the crimp. Tritan™ appearance resembles glass very well, and demonstrates high value, features a light weight and can be manufactured in small flacon sizes." We think that these flacons will enable EDT companies to enable their more mobile, sports oriented and practical customers to carry their dearly beloved product everywhere without having to worry about breakage, leakage and weight. Mr Landgraf explains.
Product, service and supply chain
The Rebhan Group's main USPs include outstanding products, service and a well functioning, efficient supply chain. Quality and the production of faultless products using a lean production process are of the utmost importance.
Mr Landgraf explains that there are only four companies in the industry , including Rebhan, with glass polymer flacon in their portfolio.
"Our competitors do not have a large standard offering as we do. In our industry, there is a distinction between standard and customised bottles, and we are able to offer our customers both options. We provide our customers with a large range of standard forms to choose from, which means that they do not have to invest in their own tools; this is advantageous from a cost point of view.
Secondly, it saves time-to-market, as in the cosmetics industry new product introduction cycles are getting shorter and shorter."
The second USP lies with the service Rebhan Group offers, as Mr Landgraf tells us. "We are a medium sized company, with a management team of just six people and a total of 300 people employed in the group. It is easy to do business with us, as we are very responsive to what our customers are asking for and we have agents everywhere to cater for local needs. We are small enough to not be weighed down by admin and offer our customers quick decisions, but large enough to meet their quality and supply chain requirements. We are seen as a solution supplier, not just a product supplier."
The company's third USP is related to its superior supply chain. "We have 100 per cent of what we need for manufacturing in-house. Many competitors subcontract: for example they may manufacture the bottle but not decorate it, or have no cap production. We think that it is a great advantage to have everything under control. We can make sure, for example, that the bottle fits the cap. "Customers will always find lower prices for a specific part of the packaging but our customer want the security of a system supplier where everything fits together. We have also invested in a good, solid IT system and SAP –unusual for a company of our size – and use modern technology like Web conferences and Internet Video Calls to communicate with our customers all over the world."
The most important assets of Rebhan, however, are our people. Without outstanding talent and motivated individuals and just everybody in the company wanting to do a good job for the customer, our successes would not be possible.
"The 'Deutscher Mittelstand', small and medium-sized companies in Germany, is an engine of innovation in Germany. This is a concept quite specific to Germany, and one of the reason why it's doing well compared to other countries. Smaller companies are constantly innovating, and we are proud to be part of this process," Mr Landgraf concludes.