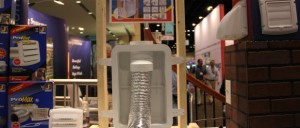 Attended the 2012 International Builders' Show in Orlando, Fla., to check out the latest innovations in building and construction. We uncovered some interesting new ways that plastics enable building industry professionals to create more sustainable, convenient, and functional homes.
Here are some examples:
Let the Sun Shine In: Home features that provide natural light are becoming more popular—even in basements. For example, RockWell Inc. creates plastic window wells to bring more natural light into dark basements. Because they're made to look like stone, they have a high-end feel, but with the benefits of plastic construction: they're durable, UV-stable, resistant to extreme temperatures, and won't rust or rot. With built-in steps, the window wells can even assist your family's escape in an emergency.
Recharge Your Batteries: CurrentWerks has created plastic electrical faceplates that make charging your electronics more convenient. By adding USB ports to typical AC electrical outlets, you can plug in your USB powered devices and regular electronics—and use or recharge everything at the same time. The ports draw no standby (vampire) power when not in use.
Relax … It's Plastic!: Sterling uses a new plastic composite material—an economical, beautiful, and convenient alternative to traditional porcelain—to create sinks, baths, showers and whirlpools. Vikrell® is a pressure- and heat-molded material made with a mixture of polyester plastic and glass-reinforced plastics. Fixtures made with this material are lighter and easier to install than porcelain, according to the manufacturer. The color is integrated with the material so any chips blend in, and the material is stain- and heat-resistant.
Paving the Way: AZEK VAST® Composite Pavers made with recycled plastics allow you to create durable and affordable patios, driveways, and walkways in less time. The product's installation system allows contractors (or do-it-yourselfers) to simply insert pavers into a grid system, which keeps the pavers neatly aligned to reduce installation time by more than 65 percent, according to the manufacturer. Made with up to 95 percent recycled materials, the pavers are strong, durable, and look like concrete. The manufacturer claims they require 94 percent less energy to make than concrete—paving their way to sustainability.
Source : plasticsmakeitpossible.com