India's import PVC market is currently trading at a premium compared to China. According to data from ChemOrbis Price Index, average import prices have been climbing in India over the past three weeks while average imports have slipped in China as sellers have come under pressure to agree to discounts to conclude their June deals in the Chinese market.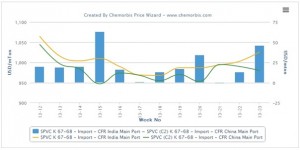 Demand in India is said to be comparatively stronger compared to other major Asian markets, although players in India are skeptical as to whether or not sellers will be able to conclude deals following their most recent price hikes. Following the divergent trends of the past three weeks, import prices on a CFR India basis, which had been trading close to par with CFR China prices three weeks ago, are now carrying a premium of around $45/ton.
An Indian converter manufacturing PVC film said that they received offers for South Korean PVC with $70/ton increases compared to their most recent purchases from the previous month. "We think that sellers are being too ambitious with these price increases and that they will ultimately agree to smaller hikes on their deals," the buyer stated. A trader based in Mumbai commented, "We purchased some South Korean PVC at higher levels this week. Most buyers claim to be covered for June now and we feel that sellers will revise their increase targets downward later in the month to finish their deals."
According to ChemOrbis, in China, average import prices have edged lower over the past week as sellers have had to agree to some discounts from their initial June prices, although they have still achieved increases relative to May. "We sold some Taiwanese PVC after agreeing to some slight discounts from our initial prices.
We are thinking of diverting some of our cargoes to India as demand in India is stronger than China and we believe that we will be able to conclude deals at higher prices with Indian buyers," a trader based in Xiamen commented. A converter manufacturing PVC pipes and fittings said, "We received stable prices for both Taiwanese and American PVC this week and we believe that prices will not see any major change over the short term.
We had secured some cargoes towards the end of May and we do not plan to purchase again before mid-to-late June as we are not satisfied with demand for our end products these days."