In Asia, PS markets lost ground over this past week as the styrene costs sank to their lowest levels for May as per the pricing service of ChemOrbis. Discouraging end product markets also caused players to resist the offer levels. In China, import Far Eastern GPPS and HIPS prices tracked a stable to $10-15/ton softer trend for both dutiable and non-dutiable origins.
In the upstream markets, spot styrene prices were $20/ton softer both on FOB Korea and CFR China basis. Meanwhile, inside China, spot styrene offers lost CNY225/ton ($32/ton) when compared to the previous week.
A trader in China reported, "Market sentiment has been weak for months. Demand does not seem to pick up and therefore, we are not very optimistic regarding the near term. Styrene prices are unstable and prices are not likely to increase given the still poor demand. HIPS is even worse when compared to GPPS and we expect further decreases on HIPS offers. We hold sufficient stocks while we fail to conclude deals."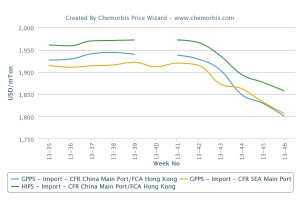 A producer in Hong Kong said, "We are still trying to keep our PS offers stable but styrene costs are lower now. When styrene is lower, it is hard to keep PS offers unchanged. Apart from the feedstock side, market sentiment is still weak. This is another factor exerting downward pressure on us. We also heard in the market that there are some traders holding high stock levels which were previously purchased at higher levels. Meanwhile, the depreciating Yuan against the US dollar is also hampering the import purchases in China as buyers prefer to turn to the local market to meet their needs. May should have been the peak season in terms of end product markets but so far we have not seen any improvements at all."
Another player confirmed the weak economic conditions inside China given the depreciating Yuan and tightening measures that the banks adopted. "If styrene continues to lose ground, PS prices will retreat further. Local producers are trying to control their operating rates but they still fail to reduce their stocks given the thin local demand since converters are also operating at lower rates. May should have been the peak season, but under these circumstances, we anticipate further decreases in the days ahead."
In Southeast Asia, the panorama was similar. Import prices were $35-50/ton lower for GPPS and $5-30/ton softer for HIPS during this past week.
A converter in Malaysia commented, "We gave a $20/ton lower bid for the PS offers we received since styrene costs are softer. We anticipate an improvement in demand but we see no coming orders yet for our end products. We think that this year is weaker than the same period last year."
According to ChemOrbis, a trader in Vietnam reported making a small purchase to supply their regular customers. However, he is not optimistic about their sales as the feedstock costs are lower. "We see thin demand for PS as it is almost the off season for PS," he further added. PS demand is deemed traditionally low in June.