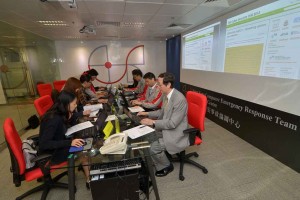 The Hong Kong Computer Emergency Response Team Coordination Centre (HKCERT) of the Hong Kong Productivity Council (HKPC) alerts businesses and the public of rising security threats as it recorded 1,593 security incidents in 2013, up 52% from 2012; and identified over 8,300 'invisible bot machines' in Hong Kong in the fourth quarter of 2013.
"Further analysis of the rising trend of security incidents and the uncovering of 'invisible bot machines' shows that ransomware, botnet, web and mobile attacks will proliferate in 2014," said Mr Leung Siu-Cheong, Senior Consultant of HKCERT.
This year, emerging security threats such as ransomware, hijacking of system servers to launch powerful attacks, and hacking of cloud user accounts to steal data for financial gains are expected. With the growing trends of mobile payments and 'Bring-Your-Own-Device' at work, mobile attacks may also become more mature and sophisticated, according to HKCERT.
Mr Leung warned organizations, especially SMEs, and the public should pay more efforts to protect sensitive data. On top of regularly backing up the data and keeping it at a safe offline location to minimize risks of ransomware, they should use strong encryption to protect data while transferring files through untrusted channels. "In addition, they should be wary of unsolicited software or hyperlinks," he advised.
To get a clearer picture of the cyber security scene in Hong Kong, HKCERT is also working with global security researchers to collect data to proactively identify 'invisible bot machines', or compromised computers.