PAWTUCKET, RI, U.S.A., January 13, 2014: Teknor Apex Company has promoted Michael Roberts to the position of wire and cable industry manager for the Vinyl Division, it was announced today by Louis R. Cappucci, vice president.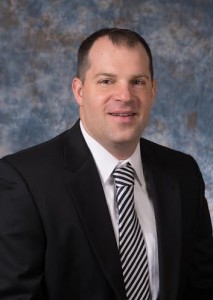 Working with existing and prospective customers around the world, Mr. Roberts will be responsible for the company's diverse wire and cable brands, including Apex® PVC, Flexalloy® PVC elastomers, Fireguard® plenum cable compounds, Halguard® low smoke halogen-free flame retardant compounds, and BioVinyl™ PVC, which contains plasticizers based on renewable plant-based resources. He will be at Wire 2014 in April to meet visitors to the Teknor Apex exhibit (Hall 9, Stand F05-03).
Mr. Roberts succeeds Mike Patel, who has become director of marketing and business development for the Vinyl Division.
"Mike Roberts has played a key role in the commercialization of BioVinyl compounds, an exciting new family of materials with great potential for wire and cable and other applications," said Mr. Cappucci. "He also brings extensive experience in Teknor Apex programs for streamlining the process of product innovation and building new digital capabilities for customers to interact with our company and access information about our products and services."
Since joining Teknor Apex in 2004, Michael Roberts has served in financial, manufacturing, and sales positions, worked on the redesign and enhancement of the company's product development process, and developed digital marketing strategies for generating leads through the Internet. He became part of the Vinyl Division marketing team in 2009. One of his responsibilities has been to serve as product manager for the BioVinyl range of compounds, working with the initial users of these materials.
He holds a bachelor of business administration degree from George Washington University, with a focus on investment analysis and financial management.
The VINYL DIVISION of Teknor Apex Company is a leading manufacturer of compounds based on PVC headquartered in Pawtucket, Rhode Island, U.S.A. The Division is an international supplier to the appliance, automotive, construction, medical device, wire and cable, and other industries. Parent company Teknor Apex operates manufacturing facilities around the world and sells in 90 countries. Six of the eight Teknor Apex business units focus on plastics compounding, including bioplastics; color concentrates; nylon; thermoplastic elastomers; toll and specialty compounds; and vinyl. Visit www.teknorapex.com.
READER INQUIRY INFORMATION: Address all mail inquiries to Teknor Apex, 505 Central Avenue, Pawtucket, RI 02861 U.S.A. Tel: 1-401-725-8000. Tel. from U.S. only: 1-800-554-9892. Fax: 1-401-729-0166. E-mail: [email protected].