Recycling rates in India, while difficult to measure, are considered to be high thanks to the millions of individuals scouring discarded materials for metals, plastics and paper.Two different presenters at Electronics Recycling Asia, held in mid-November 2013 in Singapore, commented that the India's future recycling industry is likely to include these millions of scavengers and peddlers, for whom the income brought about by scavenging is crucial.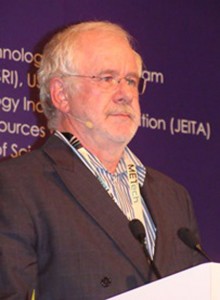 Dr. Lakshmi Raghupathy, former director of India's Ministry of Environment & Forests, told attendees that while India currently generates less electronic scrap than the United States or China, the nation sells 12.5 million television sets annually and has some 220 million cell phone users, so the amount of electronic scrap is destined to grow.
She said an estimated 95 percent of electronic scrap generated in India goes through the informal sector. "It gives a lot of employment," Dr. Raghupathy said of this network of unlicensed collectors and accumulators. "We have to have a system that includes them, not replaces them," she commented.
The former national minister also noted that this informal network has negative aspects that should be changed. She cited pollution and worker safety issues related to practices such as treating some scrap components with acid as "the basic concern."
An eventual solution will require "trust building" between these recyclers and the government, said Dr. Raghupathy, who added that many have expressed resistance to registering with the government.In Bangalore, India, Peethambaram Parthasarathy and his company E-Parisaraa Pvt Ltd. have been working to formalize the local network of plastic scrap collectors.
Parthasarathy estimated that as many as 5 million people in India collect, buy and sell plastic or electronic scrap in an industry sector that has long been "labor intensive, not capital intensive." This informal network, however, is providing India with a plastics recycling rate that he estimates at 60 percent—"the highest in the world," according to Parthasarathy.
E-Parisaraa now employs 150 people and "another 150 indirectly," says Parthasarathy and continues to use low-tech resin identification and hand sorting methods to use traditional scavengers in a larger corporate setting. "The informal sector can be formalized, especially with training," he states.
Recycling practices such as these may be less automated than in other parts of the world, said Parthasarathy, but that does not make them sub-standard. "We don't burn or dump [scrap] in India," he declared, "and we're now making components like computer mouses and keyboards from our recycled scrap."
Electronics Recycling Asia 2013 was Nov. 11-14 at the Shangri-La Hotel in Singapore.
Source:  www.recyclingtoday.com/electronics-recycling-india-scavengers-growth.aspx