In the latest step in its fast-paced international growth program, Deutsche Messe is exporting one of its flagship shows to India. CeBIT India will premiere at the International Exhibition Centre in Bangalore from 11 to 14 November 2014.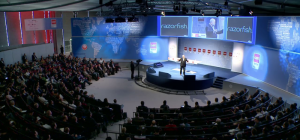 "CeBIT is one of the world's best-known trade show brands and has enormous potential," said Dr Andreas Gruchow, Deutsche Messe's Managing Board member in charge of overseas trade fairs. "We're taking it to India because we believe the local Indian market, particularly Bangalore, offers significant opportunities for a specialist IT trade show."
"Indian companies are looking for new ways of boosting efficiency by using specialized IT services and new technologies. For small and medium businesses and startups, this search opens up opportunities for partnerships with large India-based IT providers. Our trade shows are an excellent way of establishing and building the relationships needed to make this happen," Dr Gruchow added.
CeBIT India is being organized by Deutsche Messe's international subsidiary Hannover Milano Fairs India Pvt. Ltd. It will be strictly a professionals-only trade fair with a supporting conference, according to the company.
CeBIT India will be complemented by another new show, Plugged In, which will run as a stand-alone event in Bangalore from 14 to 16 November. While CeBIT India targets IT professionals, Plugged In is aimed exclusively at end consumers of IT products and the retailers who service them. As said, the two events overlap by one day, which will enable certain visitor groups to attend both.
India's IT sector is growing strongly and is thus a very exciting market for IT providers. There is growing demand both for services and for hardware and software. At the end of September 2013, India's National Association of Software and Services Companies (NASSCOM) forecast sales growth of 14% for the current 2013/14 financial year, says the company.
India is one of Asia's fastest-growing economies, second in size and importance only to China. The main growth areas of the Indian economy are the IT, textiles, automobile/automotive accessories and pharmaceuticals industries. India is increasingly investing in IT and IT-based services in order to enable wider sections of the population to participate in the country's economic growth.
The first of CeBIT events, CeBIT Bilişim Eurasia, premiered in Turkey in 1999 and was followed shortly thereafter by CeBIT Australia in Sydney in 2002 and then in 2010 by a CeBIT offshoot in Brazil. Each year, the global CeBIT program starts in March with the CeBIT parent event in Hannover.