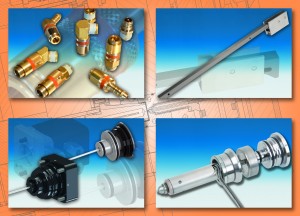 The Mould Base and Hot Runner Divisions of the standard mould manufacturer and hot runner specialist HASCO from Lüdenscheid/Germany is presenting brand new technologies to increase productivity and efficiency for tool and mould design. The Mould Base Division presents a completely new mould system for small series production. In conjunction with the Clever Mold clamping system, it enables fast and efficient mould changes on all conventional injection moulding machines.
The extended product highlights include a range of improved tempering connections and the new Tempflex that enables tempering to take place flexibly into the mould, at the point where traditional drilling reaches its technical limits. There are also improvements to the range of slides and to the thread demoulding process. The Hot Runner Division offers various nozzle variants and side gating as well as a newly developed needle closure nozzle called the "Valve Gate Shot" for the packaging sector.
This impresses with features that are both process-optimised and service-friendly – all for an attractive system price. A hydraulically-operated cylinder for moving needle valve packages makes the systems even more maintenance-friendly because they can be dismantled without the hydraulic drive unit having to be exposed. This protects both the system and the surrounding environment from being soiled by hydraulic oil.
The drive unit portfolio is rounded off by a modular range of needle valves for individual pneumatic and hydraulic control in different housing variants. In the area of regulator technology, a central operator unit will be presented alongside an improvement to the product. With various new developments, HASCO offers optimal solutions that make ambitious projects possible.