If you're in the plastic packaging industry, you better get used to the color green. What was once considered a trendy buzzword, sustainability is now driving innovation in an industry that is all too familiar with receiving the blunt of an environmental backlash.
After all, the U.S. Environmental Protection Agency (EPA) calculates that containers and packaging make up the largest category of municipal solid waste (MSW) in the country, at 30.3% of the total waste stream. Still, there is certainly both an environmental and business case for sustainable materials. The global green packaging market is expected to grow from $109 billion in 2011 to reach nearly $178 billion by 2018, according to Transparency Market Research.
Among the key factors behind the move toward green packaging are growing awareness about carbon emissions, energy consumption and waste reduction targets, rapidly growing economies, a lack of natural resources, and consumers' preference for ecologically clean products. Among the different packaging product types, recycled packaging accounts for the highest market share, growing at a CAGR of 6.9% during 2013-2018. With such high growth potential, it's no wonder that the term sustainability was referenced frequently among companies at Pack Expo 2012 (October 28-31; McCormick Place, Chicago).
Read on for sustainability inspired technologies from companies such as Milliken Chemical, A. Schulman, Octal, and Pregis, including additives, resin grades, and more.
Milliken Chemical showcases eco benefits of its additives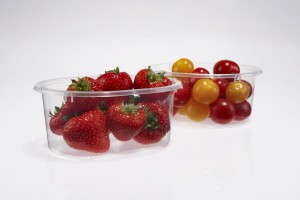 "We're always thinking from a sustainable standpoint," Heather Newland, North American market manager plastic additives for Milliken Chemical, told PlasticsToday. "We think about each component of the packaging value chain and work to take our sustainable story to the next level." At Pack Expo, Milliken showcased the advantages of its additives for packaging applications, with sustainability as a major focus.
The Millad NX 8000 fourth-generation agents provide clarity and brightness while enabling PP to be processed at significantly lower temperatures of 190 C to 200 C, a reduction of up to 40 degrees compared with less-advanced clarifiers, the company stated. These lower temperatures reduce energy consumption by 15 to 20% on average, which also shorten the cooling time. Milliken testing has demonstrated cycle time reductions of up to 15%. Milliken also touted the sustainability of PP as a low-density, easily recycled plastic that may replace other materials in household and food packaging applications.
From a performance standpoint, PP clarified with Millad NX 8000 agents provides a good balance of stiffness and impact and resistance to heat and chemicals. To demonstrate the measurable environmental benefits of Millad NX 8000 agents, Milliken released a calculator app available on the iTunes store, which is used to gauge anticipated energy savings from upgrading to the company's clarifiers. The company's Hyperform HPN-20E nucleator also cuts cycle times to lower system costs.
This additive raises the peak crystallization temperature of PE and significantly increases the rate of crystallization (half time is decreased), allowing injection molded and extrusion blowmolded parts to be de-molded faster and helping to increase output in blown film. The change in crystal orientation of the nucleated polymer also improves barrier properties of HDPE blown film and extrusion blowmolded applications by 20 to 40%. Brand owners using PE treated with Hyperform HPN-20E can either extend the shelf life of products using film of existing thickness or save packaging by adopting a thinner-gauge film while maintaining current shelf life.
Milliken announced at Pack Expo that Phillips 66, a global producer of polyolefins, has developed six new grades of Copylene PP featuring Milliken's Millad NX 8000 clarifying agent and Hyperform HPN-600ei nucleating agent. PP grades are enabling Phillips 66 to target new markets, such as pharmaceutical vials and thin-wall, single-use drink cups.
Octal releases new LCA report
When it comes to changing a packaging design, there's always the challenge of education on both the sustainability of various options and the package performance. Octal is never one to shy away from talking about sustainability and the company took one step forward and released findings of a new independent Life Cycle Analysis at Pack Expo. The study, conducted by Intertek Expert Services, found that when compared to PET bottle-grade resin, the production of Octal PET resin consumes 63% less purchased electricity and generates a 22% lower cradle-to-gate environmental footprint.
Octal's unique direct-to-sheet process (DPET) eliminates five stages of the conventional sheet production process (pelletizer, SSP, compactor, dryer and extruder). Because the PET melt can arrive at the calendar stack heated to the proper temperature, it does not have to be dried and re-melted from the granular form. Results of the study comparing different types of plastic, showed that Octal DPET sheet has a lower environmental impact than APET, consumes 65% less purchased electricity and generates a 30% lower cradle-to-gate environmental footprint.
Octal's technology produces PET sheet with a caliper variation of less than 1%, allowing downgauging of up to 8 to 10%. The company is working with customers who have successfully implemented significant downgauging to perform a cradle-to-grave analysis reflecting the actual results achieved. "Customers are asking for the LCA so we want to take it even further," said Mohammed Razeem, project engineer sustainability for Octal. "This is why we have positioned the company to be in a leadership position and supply the materials that supports sustainability efforts, it gives us an edge."
Octal recently announced that phase two in the expansion plan of its PET complex in Salalah, Oman has been successfully completed within budget and on time. Phase two capacity takes total system output to 920,000 tons per year of PET bottle-grade resin.
The company looks to be a truly global supplier as a result of its dedicated capacity and supply chain capabilities for North and South America. The increased capacity will also support companies converting new packaging applications to DPET sheet for packaging of yogurt, meat, cheeses, and produce. "Octal is building its brand on a truly global scale," said Vivek Harkauli, director of Octal's marketing PET resin. "Customers want a choice. As we extend our footprint capacity, we have established a strong and stable base from which to drive targeted expansion into markets such as North and South America."
Looks like paper, performs like plastic
Chris Kerscher, marketing manager of masterbatch for A. Schulman, said there is certainly a trend in the packaging industry to do more with less. "Sustainability is very important to us and we're constantly looking for new technology and capabilities to offer an advantage in the market place – from downgauging to resource reduction and more," he said.
The company's product lines include functional masterbatches for recycling and reclaim, masterbatches and compounds made from recycled material, masterbatches and compounds made with biofillers, natural fibers, and renewable resins such as PLA and PHA, along with masterbatches to conserve material and energy. One product the company showcased at Pack Expo was its Papermatch synthetic paper, which imparts the look, feel and performance features of paper into plastic film structures.
Consumers demand the performance of plastic, but like the look and feel of more 'natural' materials, Kerscher said. Advantages of Papermatch include its tailored surface roughness to enhance the tactile experience, high tensile strength to improve dead fold, and resistance to water, chemicals, oil and grease. It also offers valued visual characteristics such as surface uniformity, printability and color constancy.
Papermatch can be used for a wide variety of applications including food packaging, pet food bags, labels, maps, mailers, cartons, calendars, business cards, booklets, banners and point-of-purchase displays.
Pregis custom cellular cushioning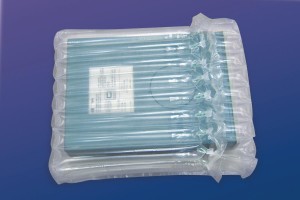 "Sustainability is not going away so we continue to look for opportunities," said Dache Davidson, director of marketing for Pregis Corp. The company has several sustainable packaging formats that utilize renewable resources and recycled content to reduce waste.
At Pack Expo, Pregis was touting its nine new stock sizes of its ChamberPak custom cellular cushioning. The new sizes have been designed to provide a packaging alternative for the growing original and refurbished consumer electronics (smart phones, laptops, tablets, ebook readers, etc.) market. Made from a coextrusion of low-density polyethylene film and nylon, ChamberPak patented design features a series of adjoining air tubes, which are inflated to cushion and protect products during shipment.
About 20,000 ChamberPak's can fit on one skid versus a couple hundred sets of EPS or molded pulp types, which the company said helps reduce fuel consumption and carbon emissions. Further, deflated/flattened ChamberPak structures create less solid waste as compared to molded EPS and foam-related materials, the company stated. Secondary packaging size can be reduced to save materials and reduce waste. The company said overall packaging costs could be reduced as much as 45% by converting to ChamberPak.
Source : http://www.plasticstoday.com/articles/For-material-producers-sustainability-remains-at-the-forefront-of-packaging-innovation-110220121