Chicago, IL—"We've been bombarded." That's how Joel Lewis, account manager for Rollprint Packaging, described to PlasticsToday the level of interest at Pack Expo (October 28-31; McCormick Place, Chicago) for the company's new proprietary, patent-pending, color-changing sealant technology for heat-seal applications.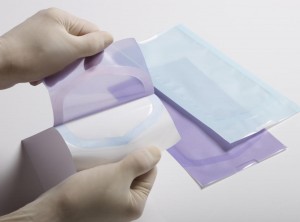 Called the Chameleon, the coextrusion-coated sealant can be applied to any thermally stable web including polyester, nylon, and polypropylene, or on any of the company's ClearFoil barrier structures. Chevron pouches and lidding materials for trays are expected to be the first commercialized applications. The Chameleon technology, a year in development, has been engineered to allow a film of one color to transfer a peel indicator of a different color providing visual indication that a package has been opened.
Traditionally, when one peels open a standard chevron pouch, there is a white indicator to show that the contents have been accessed. Rollprint engineered a way to leave a visual reference with a desired color. Calling it a "forgiving heat-sealant," Lewis said no adjustments need to be made to the machines and this technology can run in a variety of colors. The objective of the product is to enhance product security and help deter counterfeiting. The technology is targeting medical device and pharma applications such as sutures, scalpels, pre-filled syringes, artificial joints, catheters, surgical gloves, and more.
Lewis said the technology is applicable to other industries and the company has received some interest from food packaging manufacturers. Rollprint envisions other uses for the Chameleon technology in security driven packaging for items such as gemstones, collectibles, electronic components, and documents. In addition to enhanced security, Chameleon technology offers manufacturers a new way to communicate branding attributes or color code products by type or size. The web can be made up to 65 inches wide and can also be flexographically printed for additional brand support.
Cleanroom certification
Rollprint also just received certification for its ISO Class 8 cleanroom. Earlier this year, the company announced the construction of a
6000-sq-ft cleanroom for the production of sterile medical packaging pouches. Rollprint will be using its latest proprietary structures to produce pouches and bags in a variety of configurations in the new cleanroom.
By definition, a cleanroom environment has a controlled level of contamination that is specified by the number ofparticles per cubic meter at a specified size. ISO Class 8 cleanroom certification dictates the following maximum concentration limits for airborne particulate (particles/m3) according to ISO 14644-1: 3,520,000 at 0.5 μm; 832,000 at 1 μm, and 29,300 at 5 μm.
Rollprint claims they first introduced many of the packaging structures used today for pharma and medical device applications, such as film and foil header pouches, coextruded, peelable heat-seal films and silicon oxide/aluminum oxide composites, and it believes the new cleanroom capability builds on that legacy.
Lewis said a large part of the company's customer base are pharmaceutical and medical manufacturers. These customers are demanding a high level of cleanliness and are constantly looking for ways to reduce the number of contaminants that come in contact with their products, he said. This has also been fueled by the heightened compliance focus of governmental agencies, which is another factor driving customer demand for domestic supply that has been produced in a cleanroom environment.
The Rollprint cleanroom houses five production lines capable of producing a variety of pouch structures, which include header bags, chevron, vented, three-side weld seals, and corner peels. Lewis said after the company announced plans for the cleanroom, they received such a high level of interest that they're looking to add more pouch equipment to make sure they have enough capacity to meet the various needs.
Source : http://www.plasticstoday.com/articles/Rollprint-showcases-color-changing-sealant-technology-talks-cleanroom-certification-110120121