NEW DELHI, NOV. 8: The All India Plastics Manufacturing Association (AIIPA) is pushing for a Technology Upgradation Fund for the sector. The industry body, which believes that the Government needs to pay more attention to fuel the growth of the industry, feel such a fund will help start-ups and small enterprises in the sector.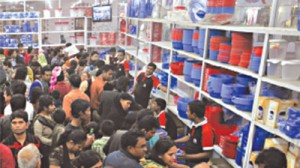 Kailash B. Murarka, Chairman of the All India Plastics Manufacturing Association, who was in the Capital ahead of Plastivision 2013, said the industry would like the Government to consider it in line with what the textiles industry now has. Such a fund, which is implemented in the form of capital subsidies and lower interest rates on loans for buying new machinery, has helped in the modernisation of the textiles industry, Murarka said, adding that it can aid the plastics industry become more energy efficient.
The industry body also believes the Government should set up more polymer processing parks as such an initiative will help in organising the largely fragmented industry. The association has submitted a memorandum to the Government stress on the need for abolishing entry tax and all other levies, apart from VAT, on plastic granules (the raw material for the polymer processing industry) and other capital goods used for making finished plastic products.
Further, they also want the VAT to be reduced to just four per cent from the current 12.5 per cent.According to Murarka consumption of plastics is only going to see a massive jump in the coming years. The sector's current turnover is estimated at Rs 85,000 crore and is expected to grow at 12-15 per cent annually. "Our expectations from the Government are simple. We are not making unauthorised products, or something that's hazardous to health. It's a known industry, licensed industry. None of the sectors can work without it," he said, asking, "Is it not Government's duty to look at the plastics sector?"
Source: www.thehindubusinessline.com/industry-and-economy/plastic-goods-makers-seek-tech-upgrade-fund/article5330359.ece