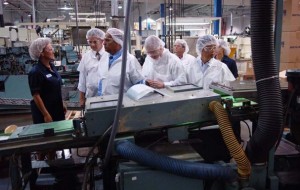 While there are many large plastic packaging companies at Pack Expo (October 28-31; McCormick Place, Chicago), only one had just announced an initial public offering (IPO), sized at $470 million.
Berry Plastics had recently priced an IPO of 29.4 million shares of its common stock at $16.00 per share. Under the New York Stock Exchange symbol BERY, the stock price drifted lower and currently trades at around $14/share.
The company is a major producer of a wide range of products, including open top and closed top packaging, polyethylene-based plastic films, industrial tapes, medical specialties, flexible packaging, heat-shrinkable coatings, specialty laminates, and FIBCs. With headquarters in Evansville, IN, the company serves more than 13,000 customers, ranging from large multinational corporations to small businesses. On the last day of Pack Expo 2012, Eric Metcalf, business and market development manager for Berry Plastics, told PlasticsToday that the show has gone well for the packaging giant.
"We've been talking with targeted customers about our innovations and platform throughout the week," he said. "While it's hard to say how many people we, and the show as a whole, might have missed due to the Hurricane Sandy in the East Coast, there hasn't been a slow time at our booth. It shows the company is doing something right." Metcalf said Berry Plastics has met with many decision makers and some deals have been made at the show. With the IPO out in the open to the market, Metcalf said Berry may approach customers in a different fashion. For instance, the company has a continued focus on innovation versus process improvement.
"Certainly innovation remains key for growth and we're looking at barrier applications in that area," he said. Berry touts its efforts to keep sustainability at the forefront of new developments and help customers grow their sales and profits while reducing their packaging impact on the environment. The company's development teams and operations work to innovate through source reduction of existing products or the use of a new material. The company has active projects focused on use of recycled content, bio-based materials, biodegradable materials and introduction of fillers and additives.
"Many customers want sustainable products," Metcalf said. "We're definitely in the mindset to develop technologies to meet those needs, which sets us apart in the marketplace."
Kentucky site to reopen
In addition, the company just announced it will reopen its Madisonville, KY, manufacturing facility to increase its production capacity. Berry acquired the Madisonville (Hopkins County) facility during its acquisition of Rexam's specialty and beverage closures business in August 2011. When the facility first opened, Rexam said in a release that the 190,000-sq-ft manufacturing facility produced a full line of packaging products, including closures, fitments, dispensing closures, containers and pumps, and called it the among the "advanced injection molding plants in the world."
After Berry's purchase, some of the business was transferred to Berry's Evansville, IN closures plant, which was also acquired from Rexam. The plant's remaining business was moved to other Berry locations. Rexam had eight manufacturing facilities globally, including seven in the U.S. and one in Brazil. In addition, Rexam had manufacturing operations in Malaysia and Mexico through joint-venture agreements, and a research and development technical center located in Perrysburg, OH.
Earlier this year, Berry had closed the facility, as a result of the redistribution of production to its other rigid closed-top manufacturing facilities. The facility had employed approximately 140. Berry said it will now convert the facility to manufacture rigid open-top products. To encourage the investment and job creation in Madisonville, the Kentucky Economic Development Finance Authority (KEDFA) preliminarily approved the company for tax incentives up to $10 million through the Kentucky Business Investment program. The performance-based incentive allows a company to keep a portion of its investment over the term of the agreement through corporate income tax credits and wage assessments by meeting job and investment targets.
Over the next few years, Berry will ramp up employment at the facility to reach a targeted employment level of 400, the company stated. In early 2013, the company will begin accepting applications for these positions, which are expected to be filled predominately by residents of Kentucky. KEDFA also approved Berry for tax benefits up to $450,000 through the Kentucky Enterprise Initiative Act, which allows approved companies to recoup Kentucky sales and use tax on construction costs, building fixtures, equipment used in research and development and electronic processing equipment.
Source : http://www.plasticstoday.com/articles/after-ipo-berry-plastics-focuses-innovation-103120122