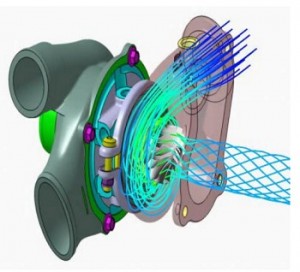 The number of passenger vehicles with turbocharged engines is expected to increase 80% globally by 2017 according to projections released by Honeywell Transportation Systems (Morris Township, NJ). This change is driven by increased demand for automobiles that deliver fuel efficiency, performance, and reduced greenhouse gas emissions.
This increased used of turbochargers is spurring demand for engineering plastics able to tolerate the elevated temperatures that result underhood. One new option now available for sampling is a high-heat (HH) grades of polyphthalamide (PPA) resin grades that can reportedly extend the service life of components used in high-temperature air induction applications such as air cooler housings, resonators, charge air hoses, and components for exhaust gas recirculation. These components are employed in turbochargers.
Supplied by Solvay Specialty Polymers USA (Alpharetta, GA), the Amodel PPA grades have specifically been launched to meet the demands of new highly downsized turbocharged engines that have been introduced to reach a balance between emissions compliance, CO2 reduction, and consumer performance preference, according to Mark Wright, global automotive marketing manager for Solvay Specialty Polymers. "This innovative material was developed to specifically help our customers meet the challenges of continuously rising operating temperatures and tougher lifetime service requirements," explains Wright.
Engine downsizing has placed high-temperature demands on air induction components, especially those components between the turbocharger compressor exit and the hot side charge air cooler housing. Solvay conducted several interviews with key European OEMs and Tier 1 suppliers to understand and assess the next-generation requirements of hot side air induction components. High-heat Amodel PPA grades are being tested by many European OEMs and Tier 1 suppliers in a range of applications and are now available for global sampling.
Amodel A-4133HH (33% glass reinforced) and Amodel A-4145HH (45% glass reinforced) PPA resins deliver better long-term thermal stability than competitive polyamide-based materials and polyphenylene sulfide (PPS). Testing shows 75% retention of tensile strength after heat aging for 3000 hours at 230°C (446°F) and after 1000 hours at 250°C (482°F).
Solvay has also confirmed that HH grades of Amodel PPA maintain mechanical properties when thermally aged at lower temperatures of 160°C (320°F) and 190°C (374°F). Test pieces during thermal aging exhibited a smooth surface appearance and no bubbles.
Both new high-heat materials provide the broad chemical resistance that is typically expected from a PPA. Both materials crystallize quickly, reportedly resulting in a 10% cycle time reduction versus other PPA and PPS materials. These materials can also be processed on water-heated injector-heated injection tools.
Turbocharger surge
Turbocharged engines are projected to be on 36 million passenger automobiles sold globally in 2017, representing almost 40% of all new light vehicle sales in that year. In 2011, turbochargers were on 20 million new vehicles sold globally, or about 25% all vehicles.
The United States, India and China are expected to lead the global growth as consumers and automakers in these markets search for ways to get more miles to the gallon, whether through gasoline or diesel engines. In the U.S., the number of turbochargers is expected to almost triple in the next five years to more than 4 million in 2017, compared to 1.3 million in 2011. Turbos are projected to be on about one-quarter of all new U.S. vehicles in 2017.
In Europe, where turbochargers are already on two-thirds of passenger vehicles, the technology is expected to gain even more ground as automakers meet more stringent CO2 emissions requirements.
"Turbochargers offer a combination of fuel-savings and performance at an affordable price compared to other technologies, making them an attractive option on subcompact cars, full-size luxury sedans, pick-up trucks and everything in between," says Honeywell Transportation Systems VP of Marketing and Product Management, Peter Hill.
Source : http://www.plasticstoday.com/articles/turbo-proliferation-boosts-demand-high-heat-resins-ppa-pps-pa-nylon-automotive-121031a