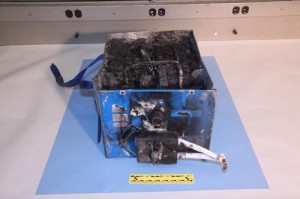 A succession of problems has plagued Boeing's 787 Dreamliner, but investigators are now most concerned about incidents involving overheating of lithium-ion batteries.
Federal Aviation Administration (FAA) officials grounded Boeing's high-tech Dreamliner after battery electrolytes reportedly leaked from a lithium-ion battery onboard an All Nippon Airways flight on Wednesday. The liquid reportedly traveled through an electrical room floor to the outside of the aircraft, leaving burn marks around damaged areas.
The latest incident followed on the heels of two battery-related problems encountered on Japan Airlines flights and another on a United flight earlier this month. Those incidents happened in parallel with multiple other episodes, including two fuel leaks. Since July, the 787 has also encountered a damaged cockpit window, an oil leak, and two cracked engines, according to multiple news reports.
Aviation experts said most of the problems are unrelated. "I tend not to believe that there's a single root cause behind all of this," David Freiwald, an assistant professor of aerospace at Embry-Riddle Aeronautical University, told Design News. "Any new system has teething or growing pains. A few issues are to be expected."
The incidents did motivate aviation authorities around the world to order stoppage of Boeing 787 flights, however. The FAA also announced it will work with Boeing engineers to conduct a comprehensive review of the 787's design and manufacture, with an emphasis on the aircraft's electrical power and distribution systems.
On its website, Boeing emphasized the safety of its new aircraft, releasing a statement saying, "The airplane has logged 50,000 hours of flight and there are more than 150 flights occurring daily. Its service is on par with the industry's best-ever introduction into service — the Boeing 777. Like the 777, at 15 months of service, we are seeing the 787's fleet wide dispatch reliability well above 90 percent."
Most of the concern around the 787 involves the use of lithium-ion batteries. The 787 is the first commercial aircraft to employ them. Its electrical architecture also operates at a higher voltages than predecessors, experts told us. "In terms of the ancillary systems, almost everything on the 787 is electrical," Freiwald said. "Most aircraft systems operate at 115V AC, whereas this is a 230V system. It's a pretty substantial amount of power and current."
Freiwald added that the lithium-ion batteries are used for auxiliary power back-up. In the past, he said, commercial airliners have typically used nickel-cadmium chemistries. Battery experts told Design News that the choice of a lithium-ion chemistry shouldn't be a problem, but it does call for tighter control. "Lithium-ion is a pretty energetic material," Eric Dietz, a professor of computer and information science at Purdue University, told us. "You've got oxidation and reduction reactions happening in close proximity to one another, so it's important to maintain engineering control around the battery."
Aviation experts said the energetic quality of lithium-ion can be a concern onboard aircraft. "One of the issues with lithium batteries is they get very hot," Freiwald said. "When they ignite, they can burn so hot that Halon 1301 won't extinguish a fire." Automakers, many of whom use lithium-ion chemistries in hybrids and electric cars, typically operate their batteries with cooling systems. The Chevy Volt, for example, employs a fluid coolant that circulates through 1mm thick channels machined into 144 metal plates sitting between the battery's cells. Other automakers have employed air cooling on hybrids.
Even with cooling, however, lithium-ion automotive batteries have been known to have problems on rare occasions. In 2011, a fire started in a Chevy Volt weeks after government crash testing, causing a ripple of concern. "The chemistry is edgy," Donald Sadoway of MIT wrote in an email to Design News after the incident. "The electrolyte is an organic fluid that is flammable, highly volatile at even moderately elevated temperature and in the presence of metallic lithium, which can form on the negative electrode at high charging rates."
Although it's not known whether the Dreamliner employs battery cooling systems, its batteries are smaller than those of plug-in hybrid cars. A National Transportation Board (NTSB) examination of an auxiliary power battery unit from the JAL Boeing 787 that caught fire in Boston's Logan Airport on January 7 showed that it measures 19 inches x 13 inches x 10 inches and weighs just 63 pounds. In contrast, electric vehicle batteries can weigh more than 400 pounds. Freiwald said he doubts the two reported fuel leaks are related to the overheating incidents. Those were more likely to have been caused by human error, he said.
Experts who spoke with Design News emphasized that the cause of the problems isn't fully understood yet, and that such incidents need to be put into perspective. "None of these were catastrophic failures," Dietz told us. "The engineering systems provided an alert to the failures and action was taken. There should be some solace in that."