The first International Injection Molding Conference (IIMC), organized by the Institute of Plastics Processing (IKV) in Industry and the Skilled Crafts at RWTH Aachen University, was held in Aachen, Germany from December 2-3.
More than 100 experts from 15 nations including Australia, Japan, China, Korea, Saudi Arabia, Taiwan, the US and various European countries attended the conference. Over 60% of the attendees came from outside of Germany, said IKV.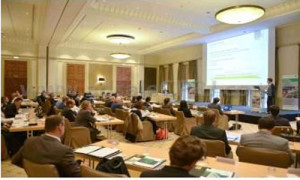 A total of 16 lectures were given with a focus on applications in the automotive sector, with three keynote lectures given at the beginning of the event.
Dr.-Ing. Peter Urban, deputy head of the Institute of Automotive Engineering (ika) of RWTH Aachen University, spoke about current trends in the automotive industry; Prof. Lutz Fügener from the University of Pforzheim then talked about what has made cars attractive and desirable products, both in the past and in the present, and Professor Christian Hopmann, Head of IKV, gave an overview of the latest technological developments in injection molding.
Representing the practical side, Dr. Toru Hirata, Sumitomo Heavy Industries, Japan, and Professor Georg Steinbichler, Engel Austria, Austria, presented some new process control technologies from injection molding machine manufacturers. Steve Braig, Trexel, the US, spoke about the production of lightweight construction materials by combined process technologies.
Dr.-Ing. Thomas Wolff from BMW AG presented on the thermoplastic outer skin of the BMW i3. He described the numerous challenges that arose during the development process of this innovative vehicle concept and then presented the final production strategy.
Meanwhile, the IKV research staff concentrated on the scientific side of the event with lectures on lightweight construction strategies and the combined simulation of process and part properties.
An accompanying exhibition, a visit to IKV and ika as well as technical discussions were also part of the conference's program.
The 2nd IIMC will be held from September 30 – October 1 in 2015, announced IKV.
More Information…
www.adsalecprj.com