According to ChemOrbis, players all around the world are closely eyeing the movements of crude oil as they are looking for a signal for the downstream petrochemical industry. Saudi Arabia's determination not to cut output however far oil falls triggered new declines earlier in the week while futures have improved recently upon the largest growth in the US economy since 2003.
Analysts are skeptical about how long this downturn can be sustained in 2015, according to Bloomberg. Having hit $54/bbl on NYMEX and $59/bbl on Brent last week, crude oil futures have been experiencing the sharpest downturn in the post-2008 period owing to an ongoing supply glut.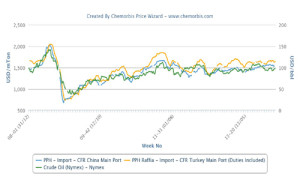 Whether Saudi Arabia will manage to convince the other members of OPEC about the no-cut decision or how long shale gas investors in the US will manage to hold firm against the challenge of low oil prices are questions that need to be answered. On the other hand, sagging demand from weak economic growth in Europe and Asia is also casting a shadow on oil prices, according to analysts.
The spread in which crude oil futures traded narrowed at $54-56/bbl on NYMEX and $59-61/bbl on Brent in the past week. This has also had an impact on downstream olefin and polyolefin markets as players in China report that buying interest has somewhat improved recently as buyers have returned to replenish stocks. The early week gains in PP and PE futures prices also paved the way for higher domestic prices in the PP and PE markets in China, although future markets lost ground again on Tuesday owing to volatile crude oil prices.
Moreover, the downturn has halted recently in Asian ethylene prices, with prices being reported cautiously stable in the past few days. Propylene, meanwhile, even managed to firm up a bit in the same timeframe in the spot market on the heels of returning buying interest even though problems about ample supply remain in place.
According to some players, China's recent improvement in demand will prove to be temporary and buyers will retreat to the sidelines again after meeting their needs. "Buyers are still anticipating price declines as the gap between propylene and PP costs remains wide. We do not expect to see any real change in buying interest before the Chinese New Year holidays in late February," a trader reported. On the other hand, stabilization may emerge in olefins and polyolefins markets if energy prices do not lose further ground, according to ChemOrbis.