With seven systems in the EREMA Customer Centre and three more in the R&D Centre at the company's headquarters in Austria, two at the EREMA North America (ENA) Trial Centre in Ipswich and a plant at the trial centre in the Middle East, EREMA customers now have a total of 13 facilities at their disposal for trial runs with the test materials they choose to provide.

Additionally, the trial centres feature the world's very latest technology thanks to the installation of the new plant generation INTAREMA® with patented Counter Current technology (presented for the first time at K 2013). The test runs on these systems are carried out in realistic production conditions and thus provide the results with which the customer's machine configuration is optimised on an individual basis. CEO Manfred Hackl explains: "Our customers benefit from the fact that the systems can be configured exactly in line with their concrete application." Currently some 400 tests are already carried out every year with a wide variety of customer materials. This number of test runs will continue to increase with the expansion of the trial centres.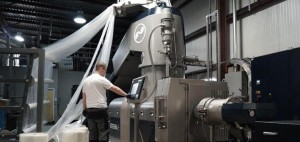 EREMA recognised years ago the trend of being able to produce recycled pellets with a property profile customised to the specific end application, to continuously increase on the one hand not only the recyclate share in innovative products but also on the other hand the general market value of plastics recycling. In order to be able to realise such specific recycled pellet grades it is necessary to analyse the problems in the recycling processes in detail. For this reason the global market leader soon decided to invest in its own R&D Centre with dedicated plastics analysis laboratory featuring a wide range of equipment with state-of-the-art engineering.
EREMA offers another unique service with additional technical support centres around the world to assist customers on site. Teams of qualified service engineers are stationed in the respective regions (Europe, North and South America, China, Japan, Vietnam, Korea and the rest of Asia, Africa and the Middle East) for technical support and on-site visits – close to the customer at all times.
With the three trial centres, over 50 representatives and the 10 regional technical support centres, EREMA not only offers its customers global after-sales expertise which saves time and money, it once again sets new standards in customer service.
For more EREMA press releases please visit: www.erema.at