Engel Austria will highlight its tie-bar-less injection molding technology at 2015, to be held from January 27-30 in Moscow, Russia.
"The potential for increased efficiency is particularly great for applications that require a bulky mold, but only need a comparatively low clamping force," emphasized Olaf Kassek, Director of Russian subsidiary OOO Engel.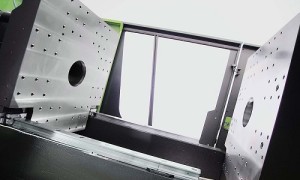 As the tie-bar-less machines allow for the platen surface to be used up to the edge or even beyond, much larger molds can be mounted than on machines of the same clamping force with tie bars, according to Engel.
At the trade fair, an ENGEL e-victory 120 combi will be producing housings for flow-measurement sensors with an integrated silicon seal.
Because of its extremely low viscosity, the processing of liquid silicone rubber (LSR) poses high demands on the parallelism of the mold mounting platens, and in this respect, the tie-bar-less machine is also having an advantage.
"The construction of the tie-bar-less machines achieves a greater platen parallelism than injection molding machines with tie bars," explained Mr Kassek. "We can securely control LIM (Liquid Injection Molding) applications with the Engel victory and Engel e-victory machines, producing with few burrs and no reworking required."
The Engel e-victory hybrid machine with electrical injection units is equipped with a servo-hydraulic clamping unit in the standard version. The servo-hydraulic Engel ecodrive ensures efficient production even with a hydraulic drive unit. Depending on application, Engel said ecodrive reduces energy consumption by 30-70%.
At the trade show, an Engel viper 20 linear robot will be removing the sensor housings from the mold and placing them on a conveyor belt. Because there are no tie bars to get in the way, the robot can access the mold area directly from the side, which allows automation of the injection molding process even in production halls with low ceilings.
More Information…
www.adsalecprj.com