At both Arabplast 2015 and PlastIndia 2015, Atlas Converting Equipment Ltd. will be showing its Atlas CW Series and Titan SR9 Series slitter rewinders for a wide range of flexible materials including plastic film, flexible packaging, labels, laminates and paper.
The company has recently introduced the CW5400 Series available in widths from 3.6-5.4m. Atlas said the new CW Series offers higher efficiency, increased productivity and reliability, with higher quality rewind reels, reduced noise levels and more effective control systems.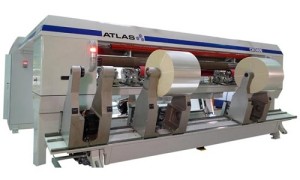 The CW Series also has faster acceleration and deceleration cycles. Compared to a conventional primary film slitter running at 1,500m/min. producing rewind lengths of 8,000m, the Atlas CW Series has a faster rewind cycle, but at only 1,200m/min.
This latest Atlas technology features wireless rewind arm positioning, automatic knife positioning and direct drive web path rollers ensuring optimum web tension for films as thin as 6 micron and up to 125 micron. Electrical cabinets are fully integrated in to the machines to reduce the space required for installation with "under floor" service channels no longer required.
Meanwhile, the Titan SR9 Series secondary slitter rewinders are applicable from widths between 1,650-2,250mm for high volume production printers and converters. A unique Linear Tracking Slitter section (LTS) ensures a short and constant web length between the knives and rewind shafts to deliver the highest quality rewind reels.
More Information…
www.adsalecprj.com