With Solvay's MMI Technyl Design service, TrelleborgVibracoustic, a European automotive vibration control solutions specialist, has created a new thermoplastic engine mounts with 30% mount reduction.
MMI Technyl Design is a design service offered by Solvay Engineering Plastics. The tool is allied with a comprehensive materials database and allows for a wide range of calculations when integrated with injection process modeling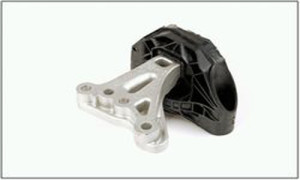 "Our choice of utilizing MMI Technyl Design was determined by the quality of the material anisotropic data available for Technyl products," explained Ludovic Chauvet, Engineering Expert at TrelleborgVibracoustic.
According to Solvay, the solution accurately predicts the performance of injection-molded parts made from Technyl materials and thereby significantly reduce the mass and cost of the applications, for which crash and fatigue resistance are key requirements.
"Building on the results, we developed a unique solution for designing and predicting the performance and manufacturing of structural components, while taking into account the production process," Mr Chauvet added. "Together with our FIAPLAST program for mechanical dimensioning, this unique approach enabled us to decrease the mass of our customers' engine mounts by 30% and reduce time to market."
The first product was used in Peugeot-Citroën for their three-cylinder engines. Now applications can also be found at Renault-Nissan on some Renault, Nissan and Dacia models. By 2016, TrelleborgVibracoustic is expected to produce several million thermoplastic engine mount components annually.
"For the past several years, our specialist teams and our advanced services such as MMI Technyl Design have been pushing the boundaries of metal replacement in the engine compartment," said Peter Browning, Global Automotive Market Director at Solvay Engineering Plastics. "We are proud of our partnerships with automotive manufacturers and their suppliers being able to help them create value at each production phase from design through to industrialization."
More Information…
www.adsalecprj.com