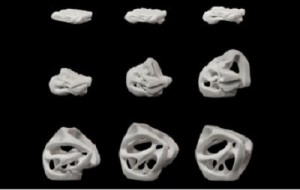 Noumenon, a Belgium-based design house, has developed a prototype armchair using shape memory polyurethane under its research project "Memories of the future".The end product is stored in the shape memory effect of the material but available as a frozen compressed small cube. It will metamorphose into a seat when plugged into the electricity grid.
According to noumenon, accessories and components which were previously made to work by the self-assembly customer will be replaced by the potentiality of material to reshape itself. The special assembling key, like that from Ikea, is substituted by producing knockdown furniture with self-transformation properties. The design house hopes this creation can become mass-produced in the near future.
Furthermore, another prototype is designed to accommodate changes in product shape. In this design concept the end user can remodel the shape into something else, allowing playfulness and creative engagement from the user and having the potential to bring a long lasting sense of delight by being adaptable to personal reference and needs, notes noumenon.
Source: http://www.adsalecprj.com/Publicity/MarketNews/lang-eng/article-67004602/Article.aspx