O'Sullivan Films, Genesis Plastics Welding and Teknor Apex Company collaborated to produce calendared thermoplastic elastomer (TPE) films for medical applications such as fluid drainage and storage bags, cushioning bladders, and surgical pouches.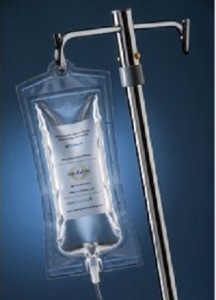 Teknor Apex says tests by cooperating customers have shown that its Medalist MD-500 series TPE provide a number of property improvements over PVC, along with substantial savings in weight and cost.
"While there is pressure on medical device companies to replace PVC in a number of applications, the track record and excellent cost-performance profile of PVC have in the past made it difficult to replace," said Elliott Pritikin, Global Medical Market Manager for the Thermoplastic Elastomer Division of Teknor Apex. "Recently, however, Medalist MD-500 Series elastomers have been commercially successful as alternatives to PVC in medical tubing, and now they are proving to offer clear-cut advantages over PVC in film products."
While calendared PVC film is widely used in medical applications, traditional TPEs have not performed well in calendaring, a process which typically provides better thickness uniformity, more consistent physical properties, and greater thermal stability than film extrusion.
"Our company has attempted to calendar a wide range of plastics besides PVC and concluded that most are simply not calendarable," noted Chuck Stronach, O'Sullivan Films commercial manager for healthcare products. "We were intrigued to discover that Medalist 500 Series compounds can be adapted for this process, and together with Teknor Apex we carried out a lot of R&D work to optimize the production and properties of Medalist calendared films."
One of the advantages, according to Elliott Pritikin, Global Medical Market Manager for the Thermoplastic Elastomer Division of Teknor Apex, is that calendared film made from Medalist MD-500 series exhibits the same degree of strength as PVC film that is twice as thick.
Another advantage is that finished products can be 66-70% lighter because the Medalist compounds are 30% less dense than flexible PVC and can be down-gauged without compromising strength.
In addition, Medalist elastomers are available at lower hardness ranges than flexible PVC, provide a broader processing window, exhibit greater elasticity and tear strength, have superior flexibility and impact strength at low temperatures, are less permeable to nitrogen and moisture, and have a wider range of service temperatures. These TPEs exhibit 25% less color change upon exposure to gamma irradiation than standard (not gamma-stable) grades of flexible PVC, notes Teknor Apex.
In its ISO 13485-certified operation for medical films, O'Sullivan Films has calendared Medalist MD-500 Series compounds into films with widths up to (193cm, using special vision monitoring systems for quality control and a dedicated "healthcare" slitter capable of producing widths down to 25mm.
Teknor Apex also collaborated with Genesis Plastics Welding, an ISO 13485:2003 certified medical device contract manufacturer. Genesis' proprietary radio frequency (RF) welding technology, ecoGenesis, enables sealing of polar and non-polar plastics, including film produced from a Medalist elastomer in complex geometric patterns. It can also seal two mono-layered films to tubing producing traditional infusion bags.
Film and bag applications for Medalist MD-500 Series TPEs include cushioning bladders (for mattresses, wheel chairs, and gurneys); IV and saline bags; medicine storage and delivery pouches; bags for enteral and parenteral nutrition storage and delivery; dialysis bags; and surgical pouches.
Teknor Apex will highlight this technology at MD&M East, to be held in Philadelphia, the US from June 18-20.
Source: http://www.adsalecprj.com/Publicity/MarketNews/lang-eng/article-67005525/Article.aspx