Polyscope, the world's leading producer of styrene maleic anhydride (SMA) copolymers, has added a third dimension to its already extensive product portfolio by manufacturing terpolymers consisting of styrene, maleic anhydride and N-phenylmaleimide. These new products are commercialized and branded as XIRAN® IZ grades.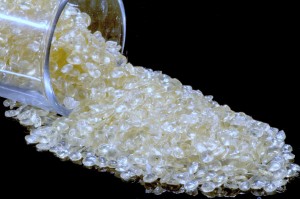 Two new grades, XIRAN IZ1018M and XIRAN IZ0721M are designed to increase the high heat performance of many engineering plastics. They were developed to respond to the increasing trend within the plastic industry to create styrenic engineering plastics with high temperature resistance and low volatile residuals. The new XIRAN IZ grades exhibit a glass transition temperature (Tg) of 175˚C or higher and can be exposed to higher processing temperatures with excellent miscibility in styrenic polymers like ABS.
XIRAN IZ1018M and XIRAN IZ0721M have a different ratio of styrene, maleic anhydride and N-phenylmaleimide.
In order to produce these products Polyscope has upgraded its state of the art continuous polymerization process in Geleen, The Netherlands. This enables Polyscope to engineer an exceptional terpolymer with a high thermal stability and excellent adhesion properties due to the presence of the maleic anhydride groups, resulting in the optimal balance between thermal improvement, mechanical properties and cost performance.
Compared to similar materials in the market, the XIRAN IZ grades deliver a high degree of efficiency, both by increasing engineering plastics' high heat performance and by having very low volatile residual levels. This is especially relevant for styrenics like ABS. Furthermore, the processablity of the final product is very likely to improve. Overall, the price and performance for this new class of terpolymers is very attractive.
Polyscope and its customers are continuously exploring new opportunities and applications for XIRAN IZ grades which could be potentially used in combination with other polymers.
Peter Tackx, Business Director Engineering Plastics at Polyscope Polymers B.V. says: "Within Polyscope we strive for innovation excellence, by offering pioneering products to our partners in the plastic industry. These new products have been developed by further building on our manufacturing and material development expertise in combination with intimate customer interaction. As experts in styrene maleic anhydride copolymers and their chemistry, Polyscope is always ready to apply its in depth knowledge in order to find new materials and bring these to the market. By working in close collaboration with our clients, we are able to customize our XIRAN portfolio to fully meet their needs and develop new and exciting applications."
About Polyscope
Polyscope is the global leader in research, product development, production and supply of styrene maleic anhydride (SMA) copolymers, compounds and aqueous solutions. Polyscope offers a full spectrum of styrene maleic anhydride copolymers and compounds for engineering plastic and specialty chemical applications under the trade name XIRAN®. The XIRAN® neat resins have a very broad molar mass range and a broad maleic anhydride variation. For engineering plastics the SMA/ABS based compounds have varying impact modification levels and glass fiber content. For specialty polymers Polyscope offers low molecular weight XIRAN® neat resins and solutions that are chemically modified to meet customer needs.
A global customer base is supported from corporate headquarters and production in Geleen, The Netherlands, and with local compounding and contact manufacturing facilities, as well as sales & marketing support in Europe, North America, and Asia.
Visit www.polyscope.eu for more information.