The Plunkett Awards Program recognises market-changing innovations based on fluoropolymers, which were discovered 75 years ago and led to the creation of the DuPont™ Teflon® brand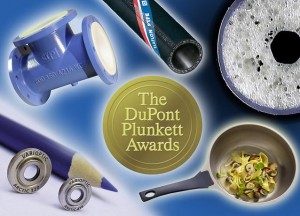 GENEVA, Switzerland, 7th February 2013. – To mark the 75th anniversary of the discovery of polytetrafluoroethylene (PTFE) by a DuPont scientist, DuPont Chemicals & Fluoroproducts (DC&F) is calling for entries to the 2013 Plunkett Awards. These awards recognise outstanding uses of DuPont fluoropolymers to create inventive market solutions that benefit the environment, showcase extraordinary innovation, or deliver a game-changing market application.
In 1938, Dr. Roy J. Plunkett transformed an apparent mistake into the discovery of PTFE, which was the first fluoropolymer and remains one of the most valuable and versatile materials ever invented. Fluoropolymer-based products play a critical role in providing cable and Internet service, generating clean and renewable energy, manufacturing more efficient and reliable cars, making mobile communications devices, and designing safe buildings, ships and aircraft.
"This year marks the 75th anniversary of Dr. Plunkett's incredible discovery," said Sylvie Gallou, Director DC&F Europe, Middle East and Africa (EMEA). "We are excited to see submissions from individuals and teams who continue to find new ways to use fluoropolymers to meet market needs. The Plunkett Awards are a fitting way to celebrate Dr. Plunkett's spirit of innovation and to honour innovators who demonstrate great chemistry at work."
Entries will be evaluated for their degree of innovation; contribution to enhanced sustainability; and economic and commercial significance. Winners are to be announced in November 2013. Submissions must be in English and must reach DuPont no later than 31st May, 2013. They can be submitted by post (to DuPont de Nemours Int. SA – Fluoroproducts, ATTN: Martine Bourrin, 2 chemin du Pavillon, CH – 1218 Grand-Saconnex, Geneva) or transmitted via the web page above.
In all, three regional competitions will be held: in Europe, Middle East and Africa (EMEA), Americas, and the Asia-Pacific region. This year's Plunkett Award winners in these regions will benefit from an aggregate 15,000 USD in cash prizes – with a first, second and third place award being granted in addition to 'honourable mentions' where appropriate. The jury comprises of selected independent experts from the fields of science and research, industry and the technical trade press. Winners are to be announced at the beginning of November 2013 at a DuPont event.
Entrants may be corporate employees or self-employed individuals who were responsible, either alone or in a team, for the development of the product or application. Joint submissions representing the work of multiple companies are expressly allowed. All entries must be for products and applications that have been commercialised since the beginning of 2008.
DuPont Fluoropolymer Solutions is a leading producer of fluoropolymer resins, additives, films, finishes and dispersions made of PTFE (polytetrafluoroethylene), PFA (perfluoroalkoxy), FEP (fluorinated ethylene propylene), ETFE (ethylene-tetrafluoroethylene) and PVF (polivinylfluoride). Major markets for these fluoropolymer products include the automotive, chemical processing, semiconductor, oil exploration, chemical handling, data communication, aerospace, electronics, housewares, building and renewable energy industries. Further information is available on the Internet at www.teflon.com.
DuPont (NYSE: DD) has been bringing world-class science and engineering to the global marketplace in the form of innovative products, materials, and services since 1802. The company believes that by collaborating with customers, governments, NGOs, and thought leaders we can help find solutions to such global challenges as providing enough healthy food for people everywhere, decreasing dependence on fossil fuels, and protecting life and the environment. For additional information about DuPont and its commitment to inclusive innovation, please visit www.dupont.com.