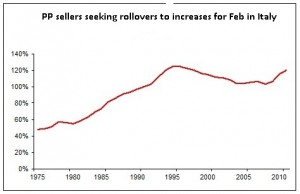 Sellers have begun to announce their February PP prices to Italy with rollovers to increases over January, as per the pricing service of ChemOrbis.  Buyers report that they plan to negotiate with their suppliers in hopes of paying either rollovers or increases matching the rise in the February propylene contract, which settled with a €10/ton increase over January.
A source at a West European producer reported that they are seeking to achieve €30-40/ton increases on their gentlemen's agreements for February after concluding their January deals with €30-50/ton hikes.  "We were satisfied with our January sales and we are feeling hopeful that we will be able to obtain additional increases this month," the source commented.  A trader offering on behalf of another West European producer said that they are seeking €20/ton increases on their spot offers to Italy.  "We are asking for some small increases for February.  We are willing to negotiate with our customers due to the fact that we are not all that optimistic about the demand outlook for this month," the trader reported.
A converter manufacturing garden furniture said that they received February spot offers with increases of around €50/ton from January.  "We are receiving a good number of offers these days but we plan to wait for a while longer before concluding any deals," the buyer stated.  Another converter said, "We received February prices with €30/ton increases from several West European suppliers.  We plan to wait before purchasing as we believe that we will be able to settle with rollovers later in the month.  Although many buyers purchased only small amounts of material in January, we still believe that demand will not be strong in February.  In addition, we received a competitive offer for a Central-East European origin and we believe that supply is generally comfortable in the market."
While several sources are reporting higher initial prices for February, other sources report that some February prices are already being given with rollovers, as per ChemOrbis.  A trader offering on behalf of a Middle Eastern producer said, "We are seeking rollovers for February as our prices ended January close to the high end of the overall range due to some production issues at our supplier's plant.  We expect prices to be generally stable in February and are not expecting to see strong demand."  Elsewhere, a PP compounder reported that they have already concluded some spot deals for February with rollovers from their West European supplier.