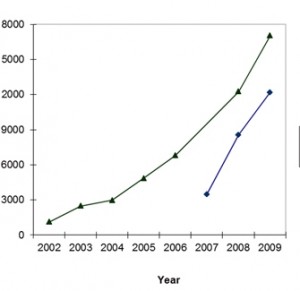 According to China Customs' statistics, the country's foreign trading value totaled US$2.4976 trillion from January to August, an increase of 6.2% year on year. Breaking down the number, export and import values totaled US$1.3091 trillion US$1.1885 trillion, up 7.1% and 5.1% respectively compared with the same period of 2011. A favorable balance of trade, at US$120.6 billion, saw a huge growth of 31.8%.
In August, China recorded US$329.29 billion of foreign trading, up 0.2% year on year. Export value was US$177.98 billion, grew by 2.7% compared with August 2011 while import value, at US$151.31 billion, was down by 2.6%. A favorable balance of US$26.67 billion was achieved.
Trading values with different partners for the first eight months of this year is as follow: Sino-Europe trading was US$365.05 billion, down 1.9%; Sino-US trading was US$312.97 billion, up 9.6%; Sino-ARSEN trading was US$252.87 billion, up 7.7%; Sino-Japan trading was US$218.7 billion, down 1.4%; Sino-Russia trading was US$58.41 billion, up 14.9%; Sino-Brazil trading was US$57.41 billion, up 6.3%.
During the period mentioned above, China exported 5.549 million tons of plastics products valued at US$19.86 billion, an increase of 7% and 36.3% year on year respectively. In August alone, the country exported 752,000 tons of plastics products, up 3% month on month but the export value, at US$3.03 billion, was decreased by 2%.
Source : http://www.adsalecprj.com/Publicity/MarketNews/lang-eng/article-126971/Article.aspx