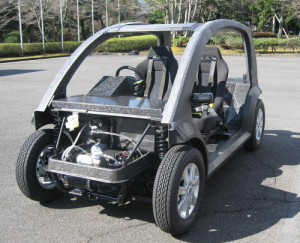 DSM and PlastiComp Inc have signed a partnership agreement to develop bio-based long fibre thermoplastic (LFT) composite materials based on EcoPaXX® polyamide 410 for the automotive and other markets.
DSM's EcoPaXX polyamide 410 is 70% derived from renewable resources.PlastiComp, headquartered in Minnesota, USA, is a specialist in LFT composites design and manufacturing.PlastiComp reports that the LFT composites it is developing with DSM – which include compounds reinforced with glass fibre as well as carbon fibre – have an excellent life cycle analysis (LCA) score, thanks to the carbon neutral cradle-to-gate footprint of the EcoPaXX polymer.
Initial compounding, moulding and testing of carbon fibre reinforced EcoPaXX was successful in establishing benchmark composites for high-temperature (up to 200°C) and structural applications. PlastiComp and DSM will also collaborate with potential customers to design injection-moulded composite parts. While the principal focus of the partnership is on automotive applications, composites that DSM and PlastiComp are developing are also attractive in other metal-replacement applications.
Source: www.reinforcedplastics.com