leading specialist supplier of plastic extrusions for the materials handling industry says that investing in a new purpose-built warehouse has doubled its stocking capacity for the products in the UK.
Pennine Industrial Equipment Ltd's £2million expansion of its Huddersfield factory provides for an extra 500sqm of dedicated floor space for wear strips and guide rails to meet growing demand for the high quality UHMW-PE (Ultra High Molecular Weight Polyethylene) plastic extrusions.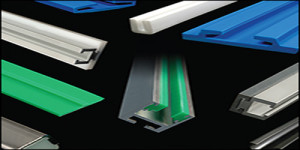 Used to prevent metal to metal contact in a variety of industrial sectors, Pennine has been supplying high quality UHMW-PE extrusions for over 30 years – its products having the greatest impact strength of any plastic. The company has over 100 different profiles available, many supplied in 152m coils, and all Pennine's impact resistant extruded wear strips and guide rails are officially approved for direct contact with food, making them suitable for sectors such as bottling and canning, industrial bakeries and meat and fish processers.
In addition to Pennine's UHWMPE profiles having outstanding resistance to wear and impact, their excellent physical qualities make them very resilient to corrosion by even the most aggressive substances, exceptionally important for companies conveying chemicals, pharmaceuticals and agricultural machinery in addition to being 100% water repellent.
Pennine supply a range of special grades, all made in-house, alongside the standard White 1000 grade extrusions, including Food Blue Grade UHMWPE lubricants for high speed and friction applications, and for use where anti-static properties are required.
With a selection of additives to increase performance also available, depending on individual applications and customer needs, most extruded wear strips and guide rails can be shipped for next day delivery in the UK or up to three days in mainland Europe.
Boosting its holding capacity is part of the biggest expansion undertaken by the family-run business in its 45-year history and means Pennine can now stock over 150,000metres of plastic extrusions at any one time. Investment in plant, machinery and equipment is designed to boost Pennine's production and efficiency in response to a growing order book, from manufacturers both at home and overseas, for its high performance plastic extrusions and silent chain and sprockets for hot end glass handling. Pennine's sales director, Graham Womersley, said: "Everything is now in place to improve even more our efficiencies and production. We are constantly increasing our range of standard extrusions and the properties of UHMW-PE make it the most wear resistant, non-metallic substance available to the material handling industry."
Significant investment in warehouse space enables Pennine to carry larger stocks of its plastic extrusions, with a wide selection of profiles and grades to meet the demands of the material handling industry in the 21st century.