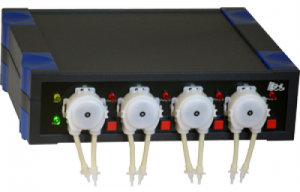 The complete range of Motan Colortronic dosing units with the easy to use colour Touch screen has improved control software. The upgraded Intelliblend based software, combined with the even faster processing power of the control, further improves responses to changes in the operation of the unit.
Further improvements include optimised synchronisation to the plasticising time when used in injection or extrusion mode. This also includes optimised ramping speed up and down when using starve fed mode on twin screw extruders.
The Can based brushless motor of the units with inbuilt motor control and feedback ensures a closed loop of a normally open process to ensure repeatability of the amounts to be dosed.
This, combined with the optimum angled design of the dosing screw ensures the highest quality product at the lowest possible cost.