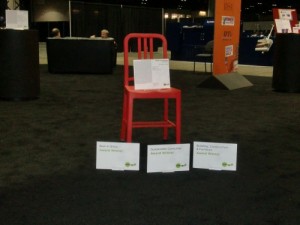 The 111 Navy Chair, a replica of the modern design icon of the 1940s is the top winner of the prestigious International Plastics Design Competition (IPDC) sponsored by SPI: The Plastics Industry Trade Association. The competition attracted 32 product entries whose details and images were posted online many weeks prior to NPE on the IPDC site at www.plasticsdesign.org.
A panel of nine judges evaluated the entries in advance of NPE2012 and in a special exhibit at the show itself. In addition to awards presented by the judges, there was a "Peoples' Choice" award based on online and at-show voting open to anyone in the industry.
The awards presented were:
Best in Show award
111 Navy Chair, designed by Emeco and gas-assist injection molded from recycled PET supplied by BASF. The chair also won the Buildings & Furnishings award and the Sustainable Consumer Product award.
The 111 Navy Chair is a replica of the iconic 1940's all aluminum Navy Chair. It was produced for the US Navy. The award-winning replica is made of recycled PET derived from 111 soda bottles.
Peoples' Choice award
Zip Zester, for removing zest from citrus fruits; designed by Grass Roots Industries for brand owner Zip Zester; molded by Cashmere Molding using Battenfeld equipment, materials from EMS Grivory, and tooling by Questech Unlimited and China Monicom.
The Tigris is the world's lightest, fully certified, recyclable, all polymer airline catering trolley.
Automotive & Transportation award
the all-plastics Tigris airline catering trolley, designed by ProMolding, molded by Bemis Manufacturing using tooling from VinylTech International, machinery from Milacron, and resin from Solvay Advanced Polymers. The product also received the Innovations in Plastics award and the Project award.
Consumer Products award
Purist Hydroflo Water Bottle, designed by Harbor Fluid Products for brand owner Specialized Bicycle Components.
Medical & Scientific award
Mobilegs, an alternative to the traditional crutch for disabled people, designed by Studio + Weber for brand owner Mobi. BASF supplied the resin, and Illinois Tool Works did the toolmaking and molding.
Packaging award
1seal container and lid product molded by Arta Plast from material supplied by Spartech Corp., for brand owner The Better Bean Company. Machinery for the project was supplied by Packline West.
Emerging Technology award
3D IML with MuCell, a 3D in-mold labeled packaging tub injection molded of expanded PP through use of the MuCell process. Brand owner, designer, and molder was Paccor Packaging Deutschland. Netstal supplied the machinery and Plastisud the tooling.
Single Part award
an injection molded component for a water outlet assembly, designed by MPC for brand owner Nissan, using material from Solvay, machinery from Demag, and tooling from Industrial Molds.
Sustainable Part award
Genesys Fluid Pump, designed by Millennium Mold Design for brand owner Multi-Duti Manufacturing, molded by Ci-Dell Plastics with material from Bulk Molding Compounds and tooling from Moldcraft.
Sustainable Process award
Poly-lactic foam article by brand owner and designer Sekisui Plastics, which was also responsible for materials, machinery, tooling, and molding.
Source : gupta-verlag.com