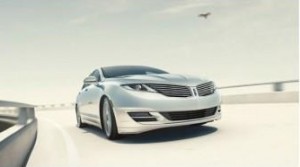 The Lincoln Motor Company, a division of the Ford Motor Company, sustainable solutions supplier Weyerhaeuser and auto parts supplier Johnson Controls jointly introduce a tree-based fiber for use in auto parts after a three-year collaboration.
Using tree-harvested natural fibers in place of traditional glass-based fibers, Weyerhaeuser created Cellulose Reinforced Polypropylene (CRP). The material, said to be lighter and more eco-friendly than fiberglass, will be used to produce the 2014 model year Lincoln MKX vehicles.
CRP replaces the fiber glass material traditionally used in the floor console armrest substrate, a structural piece located within the center console armrest. According to Lincoln Motor, pieces made from CRP are roughly 6% lighter, and decrease the reliance on less-environmentally friendly fiber glass parts.
The use of CRP, while relatively small in the current project, marks an advancement that has the potential to play a more impactful role in the future, explained Ellen Lee, Plastics Research Technical Expert for Ford Motor Company.
CRP has been used on Ford Motor Company prototype vehicles in the past, but its use on Lincoln MKX marks its first application on a production vehicle.
Source: http://www.adsalecprj.com/Publicity/MarketNews/lang-eng/article-67010450/NewsArticle.aspx