Germany-based Coperion GmbH has equipped a special assembly facility for its modular compounding systems at its production site in Shanghai, China.The company says the new 2,000sqm facility will enhance its ability to design and build both conventional and modular compounding systems for Asia. It will also support local value chain activities, as a large proportion of components will be sourced locally.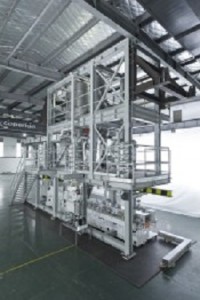 Andreas Müssle, Managing Directior of Coperion Machinery & Systems (Shanghai) Co Ltd, describes the importance of the modular assembly facility for the local market, "In the 4th quarter of 2011 we decided to build upon our existing expertise in sales and engineering and make a strategic investment in the local assembly of our modular systems. This was a clear commitment to the importance of the Far Eastern market and very quickly proved to be right."
Coperion reveals it has secured the Swedish Hexpol Group's first order for the building of a modular plant in Shanghai in January 2012, soon after the decision to build a special assembly facility for modular compounding systems. The compounding system was destined for the Group's member company Hexpol Compounding Co Ltd, Foshan, China, where it is now being used for the compounding of thermoplastic elastomers (TPE). After assembly and commissioning at Coperion's facility in Shanghai, the system was delivered, installed and put into service.
The core equipment of the modular compounding system is a ZSK twin screw extruder with 82mm diameter screws capable of a maximum output of 1,800kg/hour and suitable for different TPE formulations without any need for conversion.
One of the most important benefits of modular concept, according to Coperion, is the standard floor-level installation of the ZSK 82 Mc18, permitting ready access during normal operation, especially for cleaning when changing over from one product to another and also for maintenance and repair. The handling systems for the raw and finished products were also designed and supplied by Coperion in Shanghai.
US-based K-Tron, now a sister company of Coperion under Hillenbrand's Process Equipment Group, has its gravimetric feeding systems integrated into the modular compounding system.Around the middle of 2012, Hexpol supplemented the production line by a laboratory compounder with a Standard Twin Screw STS 35 advanced extruder from Coperion Nanjing. This laboratory compounder is used primarily for the development of formulations and for customer trials.
"We were most impressed both by the thoroughness with which Coperion's experts dealt with our production requirements and by the exactness with which they accommodated our wishes and needs. Within an extraordinarily short period of time we received a high performance production line in which the conveying and compounding systems came from one and the same manufacturer.
We are using the modular plant for the production of high quality TPE compounds that satisfy all requirements, both our own and those of our customers. These products are also internationally competitive and therefore enable us to expand our presence in China to a decisive extent." Said Carsten Rüter, President Technology, Hexpol Compounding.
"We have received more orders and are confident that things will go as smooth and successful as experienced with the modular system for Hexpol. There is an enormous and widespread interest in modularized compounding systems, so we are sure that our new assembly facility will be fully loaded soon." added Mr Müssle.
Source: http://www.adsalecprj.com/Publicity/MarketNews/lang-eng/article-67005285/Article.aspx