More and more complex component geometries, ever stricter requirements for quality and precision and new materials are placing greater demands on manufacturing technologies in all industries. As a result, deburring and polishing processes are gaining significance. DeburringEXPO will now provide these qualitatively decisive manufacturing steps with their own platform. The trade fair for deburring and polishing technology will held for the first time at the Karlsruhe Exhibition Centre by fairXperts from the 13th through the 15th of October, 2015.
Regardless of whether the respective parts are made of metal or plastic – more or less pronounced burrs occur in nearly all manufacturing processes. Due to the fact that, on the one hand, these unwanted "production remnants" impair further processing of the component as well as its quality and function, and on the other hand result in the risk of possible injury, they must be removed. Ever stricter requirements for deburring quality and process reliability have to be fulfilled in this respect. At the same time, increasing cost pressure in global competition is making it necessary to use more and more economical deburring processes. "The production steps involving deburring and polishing have gained tremendous amounts of significance in recent years. They represent a sizable cost factor for today's manufacturing companies", reports Hartmut Herdin, managing director of fairXperts GmbH & Co. KG.
Platform for Deburring and Polishing Technology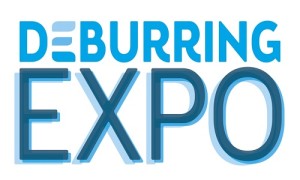 The use of technologies that can be ideally matched to the many types of burrs and chips is indispensable in order to achieve the required levels of quality economically. Regardless of this, to date there hasn't been any platform at which users from all industry sectors can gather comprehensive information regarding appropriate technologies. The DeburringEXPO trade fair for deburring and polishing technology will change this situation, and will be held by fairXperts for the first time at the Karlsruhe Exhibition Centre from the 13th through the 15th of October, 2015. Just how diverse these processes are is made plainly apparent by taking a look at DeburringEXPO's exhibition portfolio. It includes equipment, systems and tools for belt grinding, brushing, abrasive flow machining, vibratory grinding, blasting with solid and liquid media such as high pressure water jets and CO2 snow jets, abrasive water-jet blasting, magnetic-abrasive deburring, ultrasonic deburring, chemical bath deburring, electrochemical machining (ECM), electron beam machining, thermal energy machining (TEM), mechanical deburring, buffing, polish honing, electrolytic polishing, plasma polishing, laser polishing, immersion and brush polishing, as well as measuring, test and analysis systems.
And thus DeburringEXPO provides manufacturers and distributors from the fields of deburring and polishing with a unique forum for informing users from the motor vehicle, aviation and aerospace industries, machinery manufacturing, medical technology, precision engineering, fluid power, drive and transmission technology, metalworking, hydraulics, the casting and die-casting industry, tool and mould making, as well as many other sectors, about the various technologies and processes in a targeted fashion. Conversely, visitors from a great variety of user industries find concentrated and competent cross-technology information on how to implement their own specific deburring and polishing tasks at a single event.
The fact that fairXperts seems to have its finger directly in the pulse of the times with the specialised trade fair is made plainly apparent by the great interest expressed by companies from the field of deburring and polishing. Renowned manufacturers and service providers have already announced that they will participate.
The programme offered by DeburringEXPO will be rounded out with an integrated expert forum at which visitors will be provided with information and knowledge about innovative deburring and polishing technologies, practical examples and benchmark solutions, how to avoid costs resulting from errors and how functional reliability can be achieved while maintaining uniformly high levels of quality.
Further information:-
www.deburring-expo.com
SCHULZ. PRESSE. TEXT., Doris Schulz, journalist (DJV),
Landhausstr. 12, D-70825 Korntal, Germany,
phone: +49 (0)711 854085,
fax +49 (0)711 815895