UK-based Innovia Films says its compostable cellulose-based material, NatureFlex NVR, has been chosen by French Fair Trade organic tea company, Les Jardins de Gaïa, to pack its range of organic teas in individual sachets.
Jean Baptiste Dubois, Marketing of Les Jardins de Gaïa, notes, "We wanted to keep our product safe and in premium condition and do something that would stand out from the crowd. NatureFlex films ensure we are proud of our packaging!"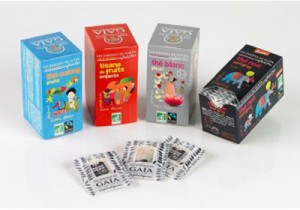 According to Innovia Films, NatureFlex is a wood-based film that breaks down at the end of its lifecycle in a home compost bin (or industrial compost environment) within a few weeks. It is also confirmed as suitable for emerging "waste to energy" techniques such as anaerobic digestion.
"We were delighted to assist Les Jardins de Gaïa via TPS from Soltau, Germany in realizing their sustainability goals. Alongside the environmental benefits, NatureFlex films also offer a host of advantages for packing and converting such as inherent dead fold and anti-static properties, high gloss and resistance to grease and oil, good barrier to gases, aromas and mineral oils, a wide heat-seal range and easy opening," states Neil Banerjee, Market Developer, Innovia Films.
The converter in this application is German-based tea packer TPS.
Source:  www.adsalecprj.com/Publicity/MarketNews/lang-eng/article-67007091/Article.aspx