FUNVERDE, one of Brazil's leading environmental NGOs, has publicly endorsed oxo-biodegradable plastic as the country's most effective solution to plastic waste which escapes into the environment.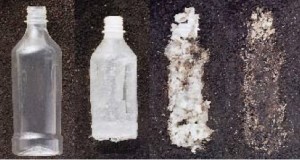 "In researching solutions to our plastic waste problem, we found that oxo-biodegradable technology causes plastics to convert at the end of their useful life into a material which will degrade, then biodegrade, in the environment in the same way as a leaf", said Claudio Jose Jorge, FUNVERDE's president.
Symphony Environmental, the British specialist in oxo-biodegradable technology, expects to benefit substantially from this endorsement of the technology.  Symphony already has a strong presence inBrazil, supplying a number of the country's biggest names.  d2w is distributed by RES Brazil, who have been authorised to use the FUNVERDE logo.
Brazil has a substantial plastic waste problem and FUNVERDE has been conducting research into degradable plastics since 2005. They were looking for a plastic which would work as claimed and which could be verified by the necessary laboratory reports based on international standards which could prove degradability, biodegradability and non-toxicity.
FUNVERDE's President added "This is much better than bio-based compostable plastic, which is tested to biodegrade only in the special conditions found in an industrial composting plant, but not in the open environment, and is too expensive for everyday use. Plastics can be made with oxo-biodegradable technology by factories in Brazil at little or no extra cost with their existing machines and polymers, and without any loss of jobs."
For further information, go to: www.d2w.net   or www.resbrazil.com.br  or