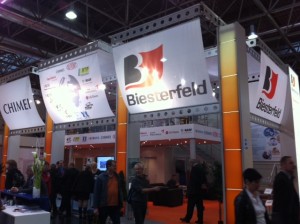 Effective from January 1st 2013 Biesterfeld Nordic AB, a 50/50 joint venture between the Swedish based family-owned Fred Holmberg & Co AB and Biesterfeld Plastic GmbH will start its activities from its central Nordic head office in Malmö, Sweden.
Biesterfeld Plastic, currently holding the leading position in pan-European distribution of Standard & Engineering Polymers and Elastomers, came to an agreement with fast-growing Fred Holmberg & Co AB who has developed in recent years to the leading position in Chemical and Polymer distribution in the Nordics with local sales offices in all Nordic countries.
"We believe that now is the right time to establish Biesterfeld's presence in the Nordics in partnership with a strong local player. We expect further consolidation in the Nordic region and we think we have now found the right partner to carry this out together", says Carsten Harms, Managing Director of Biesterfeld Plastic GmbH. Fred Holmberg, appointed Verställende Direktör of newly established Biesterfeld Nordic AB and family share owner of Fred Holmberg & CO AB comments: "We are delighted to start this partnership with the market leader in Polymer distribution.
Our views, values, principles and business objectives being privately owned companies are aligned and I am sure this venture will bring highest technical skills and service both to the markets and our common principals here in the Nordic region." Biesterfeld Plastic GmbH, a 100 % subsidiary company of Biesterfeld AG, is a leading distributor in the European plastics industry with long-standing sales partnerships in a total of 42 countries.
Leading polymer producers such as DuPont, ExxonMobil Chemical, INEOS Olefins & Polymers Europe, BASF Polyurethanes, Solvay, Chevron Phillips, Styrolution, Chi Mei and LG Chem have trust in the efficient service offered by Biesterfeld Plastic GmbH and have, for many years, shared this growth. Fred Holmberg & Co AB in common with Biesterfeld AG is a 100 % family-owned chemical and plastic distributor in the Nordic region. The company holds a leading position in the Nordic region.