Injection molding machines from WITTMANN BATTENFELD – the optimal solution for medical technology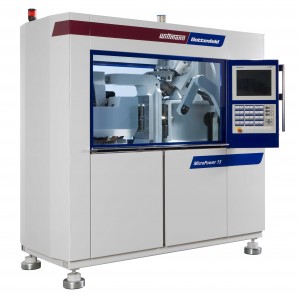 At the Medtec in Stuttgart from 26 to 28 February, WITTMANN BATTENFELD will present its competence in medical technology, especially in micro technology, to interested trade visitors in hall 1, booth 1L52 In developing the electric machines of its PowerSeries, one main objective pursued by WITTMANN BATTENFELD was to create optimal solutions for manufacturing medical technology products and implementing clean-room applications. The all-electric EcoPower and MicroPower series are the perfect choice for medical technology applications.
At the Medtec in Stuttgart, WITTMANN BATTENFELD will furnish evidence of its competence in the area of medical technology in hall 1, booth 1L52, by producing a micro filter made of POM with an 80µ grid and a part weight of 1.1 mg, which can be used in acoustical engineering as well as in micro pumps or inhalators. The micro filter will be manufactured on a MicroPower 15/10, which has been specially developed for high-precision injection molding of small and micro parts. It is produced in a 2-cavity mold with 3-platen injection. The MicroPower stands out by its extreme cost-efficiency, process reliability and speed.
In this machine generation, the injection aggregate is of special interest. This innovative two-step injection unit, consisting of a screw and a plunger, with a shot volume ranging from 0.05 to 4 cm³, injects thermally homogeneous melt, with the result of premium-quality parts from absolutely stable production with short cycle times.
Hi-Q shaping
The newly developed Hi-Q shaping injection-compression molding process enables the production of parts with virtually no internal stress and perfect surfaces. Here, the process parameters for temperature and pressure are added to the settings for time and distance, which makes it possible to regulate the embossing pressure via the clamping force setting for every specific process. This again enables dynamic and accurate application of the embossing pressure to the entire surface of the part just above the glass transition temperature and consequently a drastic reduction in material stress. As a result, parts are produced with a perfectly constant weight, minimal shrinkage and excellent surface quality.
The machine on display is a completely integrated clean-room production cell with a rotary disk, parts removal handling, integrated quality inspection by imaging and a clean-room module. The machine's clean-room-compatible design and the clean-room module, which enables a class-6 clean air environment according to ISO 14644-1, make it ideal for medical applications. In the application demonstrated at the fair, the parts are all injected, quality-inspected and deposited inside the clean room.
WITTMANN BATTENFELD
WITTMANN BATTENFELD, a company of the WITTMANN group based in Kottingbrunn, Austria is a leading manufacturer of injection molding machines for the plastics industry. With its own sales and service companies as well as representations in about 60 countries, WITTMANN BATTENFELD provides optimal support to its customers in all matters concerning injection molding technology. Its innovative strength, highest precision and strong focus on maximum customer benefit make WITTMANN BATTENFELD a valuable partner for its customers.