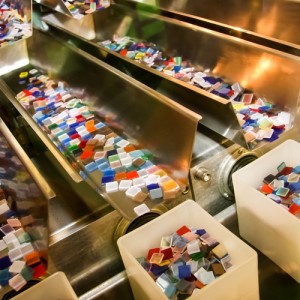 The VTT Technical Research Center of Finland has developed a technology it believes will significantly improve the quality of bio-based plastic packaging and help reduce the world's dependence on oil. VTT's technique enables the production of the PGA monomer glycolic acid from bio-based materials more efficiently than ever before, according to Ali Harlin, professor at VTT's biotechnology and food research laboratory.
Harlin told PlasticsToday that VTT developed a new microbiological production strain that enables production at low pH, which makes the separation of the glycolic acid easier. VTT also improved the polymerization process, simplifying the current process.
In its process, VTT starts with hydrolyzed sugars from non-food lingo-cellulosic side-streams, including packaging waste, which are fermented to glycolic acid, fractioned and polymerized to PGA. This bio-based PGA plastic is between 20 and 30% stronger than PLA and able to withstand temperatures at 20 degrees Celsius higher, Harlin said. PLA is currently the most widely used bio-based plastic on the market.
"PGA has markedly better stiffness, mechanical strength, thermal performance and oxygen barrier," Harlin said. "PGA is not targeting to directly replace PLA, but it can improve the performance of multi-layered PLA structures in packaging applications, especially as a barrier layer." Like PLA, PGA is biodegradable, but in a way Harlin said is markedly easier and possible in ambient conditions over a reasonably shorter amount of time. Recyclability of PGA scrap in production is possible but challenging.
"Our main vision is that PGA will enable biodegradable barrier coatings for recyclable fiber packages as well as improve the barrier performance of bio-based packaging films, such as PLA multi-layered films," Harlin said. Harlin said PGA is a very strong polymer as a solid, and when molten, its rheology is typically very free flowing. PGA can be processed with typical plastic processing, but it requires operation condition adjustments. Harlin calls it "a drop-in replacement for polyethylvinylalcohol (EVOH)."
VTT is in negotiations with several chemical companies to produce the GA monomer and PGA polymer. Harlin said there is still work to be done with scale-up and in optimizing the polymer for various applications.
"PGA is a high performing barrier polymer that improves oxygen barrier of bio-based packaging," Harlin said. "PGA is not a cheap solution, but its performance compensates the price making so that it's economically viable. PGA should not be considered as a mono-material, but as a performance polymer enhancing the properties of other biopolymers to become more complete."
Some estimates state that the volume of oil used every year in the production of plastics equates to approximately 5% of the world's total oil consumption. About 40% of all plastics produced are used in packaging. Harlin said this should put pressure on the packaging industry to reduce its dependence on oil. According to lifecycle analysis, carbon dioxide emissions from bio-based plastics can be as much as 70% lower than from oil-based plastics.
Bio-plastics represent only about 1% of the total plastics market today, but will grow to 7% by 2020, according to NanoMarkets, a market research firm. To reach full potential, bio-plastics must come down in price; today they are two-to-three times the price of fossil-based plastics, according to NanoMakets.
In addition, the sector is also highly capital intensive. For every 1 million tons of bio-plastics production capacity, at least $1.25 billion is invested. The consumption of bio-plastics by the packaging industry will amount to 1.3 million tons in 2013, almost 75% of bio-plastics shipped. Packaging will still hold a 65% share of the bio-plastics market as late as 2020. Harlin said that due to the cost competiveness of oil-based products, it will take decades before there is a complete transition to bio-based packaging.
"But in the coming years (two-to-five), there will be a marked portion of modified atmosphere packaging that is bio-based," Harlin said. "Brand-owners are in the driver's seat when applying biopolymers in packaging, where some of the main drivers are differentiation through sustainability. Simultaneously some of the main retailers have launched their sustainability policies."