Differentiated expertise and materials offering to help customers in the region create value with durable and responsible solutions
Shanghai, PR China April 22, 2014 – Solvay, an international chemical group and leader in high-performance polymers for demanding applications, at Chinaplas 2014 today, confirmed its active commitment to customers in the Asia-Pacific region with material solutions and dedicated investments, designed to support megatrend industry segments and speed up the time-to-market with responsible answers to challenges in transportation, healthcare, energy and other key sectors.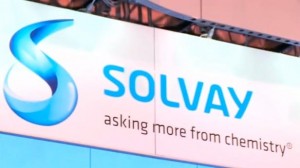 "Relying on our global capacities and increasingly stronger regional footprint, we provide our customers with innovative and differentiating solutions that enable them to create value and growth in a sustainable way," underlines Frank Laganier, Asia-Pacific Director for Solvay Engineering Plastics. "China has become a world player in key megatrend industries, and we are here to help our customers make a difference in these markets."
Luke Du, General Manager, Greater China and SEA, for Solvay Specialty Polymers added: "We firmly believe that our growth in Asia depends a lot on China customers and Chinese talents." He goes on to say, "For this reason we are also investing in the expertise and growing skills of local people with enhanced focus on Research & Innovation and Sales & Marketing."
Solvay's global Specialty Polymers and Engineering Plastics business units have been leading the developments in new and expanded polymer families targeted at sustainable solutions that help China and Asia-Pacific customers to Move, Connect, Energize, Live and Care.
Move – While China and Southeast Asia have made it a priority to fight pollution, Solvay is meeting this need with advanced materials for light-weighting and increased powertrain efficiency in Automotive, High-Speed Trains and Aerospace that help to reduce fuel consumption and emissions: Innovative Technyl® Heat Performance polyamides, Amodel® PPA and Tecnoflon® FKM grades provide high heat performance properties for demanding turbocharged engines and high-efficiency powertrain systems. Sinterline™ Technyl® Powders permit the rapid creation of functional prototypes that significantly reduces development time, while comprehensive MMI Technyl® Design simulation services provide cost-efficient design optimization. Radel® PPSU and Solef® ePVDF foams offer significant weight reduction in structural and insulation applications, and Solef® PDVF for Li-ion batteries as well as Aquivion® PFSA for fuel cells help to drive electric vehicles and alternative fuel solutions.
Energize & Connect –Solvay's solutions to the challenges of saving valuable resources are focused on the renewable energies sector, on smart energy management and on the use of advanced bio-sourced materials. Examples include new Halar® ECTFE film grades and UV-blocking technology as well as Solef® PVDF and halogen-free flame retardant Technyl® materials for photovoltaic modules. The new Technyl® One range addresses miniaturization, safety and productivity challenges of the electrical equipment market for energy management and building automation in growing metropolitan areas, while innovative fluoropolymers are targeted at high-performance wafer processing equipment, cleaning tools, wet benches and heat transfer media for the Semicon market. Kalix® bio-based HPPA and Ixef® PARA provide responsible solutions for durable, thin and aesthetic smart devices. Bio-sourced Technyl® eXten can make a significant contribution to extend the life and power capacity of batteries.
Live & Care – In wide application areas where innovative polymers can add to environmental protection and better quality of life, Solvay offers superior materials and services for customers seeking to differentiate themselves among competitors, for instance with Technyl® eXten coatings for thermal insulation in energy-efficient air conditioners. UL certified laboratories ensure compliance with highest electrical protection standards. Solef® PVDF and Udel® PSU for membranes provide the performance properties required for innovative ultrafiltration, nanofiltration and reverse osmosis units in water treatment plants. Solviva® biomaterials offered for use in implantable medical devices, Radel® PPSU for reusable devices that are repeatedly sterilized, Ixef® PARA for replacing metal in single-use instruments, and KetaSpire® PEEK for medical devices exposed to extreme sterilization and aggressive chemicals highlight Solvay's advanced materials portfolio for the healthcare sector.
These comprehensive material solutions and services are backed by committed investments, including a number of important additions to Solvay's strong industrial footprint in China, where capacity expansions at the company's Changshu site for Tecnoflon® FKM and Solef® PVDF performance polymers and compounds are scheduled to go on-stream by end of 2014 and in 2016, respectively. In addition, further capacity increase for Technyl® polyamides at Shanghai's compounding plant will be completed in 2015. Furthermore, Solvay Specialty Polymers has forged a strategic alliance with Shanghai 3F New Material Co., Ltd., to serve the fast growing Asian market with high-performance fluorinated polymers.
With four new Research & Innovation laboratories at locations in China, Korea, India and Japan, Solvay now operates almost half of its R&I labs worldwide in Asia. This strengthens the company's ties with local manufacturers and converters, while enhancing the focus of R&I developments on the needs of customers in the region.
Solvay is exhibiting at Chinaplas 2014 from April 23-26 at Shanghai International Expo Center in Hall N1, Booth A01.
Learn more at www.solvay.com.