Spot styrene prices in Europe gained ground over the past week to reach the highest level in over two months, supported by limited availability as per the pricing service of ChemOrbis.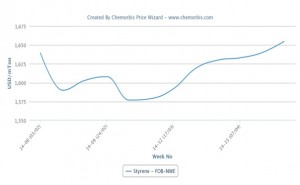 Spot prices on an FOB NWE basis climbed by around $30/ton on the week and exceeded the $1650/ton threshold, reaching the highest level since early February. Contrary to firmer styrene, spot benzene prices moved slightly lower week over week while they are almost unchanged from early April levels.
Firmer spot prices in line with reduced availability were attributed to the approaching high season as well as the planned maintenance shutdowns in the region. In addition, several regional producers were said to be running their plants at lower rates due to poor economic conditions.
Looking at the downstream markets, April PS deals were concluded with rollovers to increases of up to €20/ton from last month in Italy. Demand slightly revived in the first half of the month, but it lost speed again due to the Easter and bank holidays. Players do not expect to see major changes in May, thinking that the market may track a trend similar to April if styrene costs hold steady at the current levels.
According to ChemOrbis, in Northwest Europe, April PS prices were being reported mainly with rollovers prior to the holidays while a few sellers were still aiming for increases equal to the styrene contract hike of €15/ton. Demand has reportedly been sluggish this month as some buyers elected to delay their purchases to May given the holidays and others reported receiving competitive import offers.